Senior Lawrence Latiza is this year's dance/drill head captain at Glendale High School. He was born in the Philippines, and he came to the United States when he was fourteen years old. 
When Lawrence first lived in California, he didn't enjoy it at all, and he wanted to go back to the Philippines, because he didn't feel that he belonged here. But then the dance/drill team changed his whole life. 
Lawrence joined the dance/drill team during his freshman year at GHS. "I hated PE because we had to run," he said. "And one of my friends wanted me to try out for drill, because she once saw me dancing. And now four years later, I love to drill!"
Apart from dancing and being on the dance/drill team, Lawrence loves playing soccer and the guitar. He used to be on a soccer team back in the Philippines. In his free time, Lawrence likes to spend time with his girlfriend and his other friends. He was also recently voted to the 2022 Homecoming Court, and he was crowned High Royalty at the Homecoming Game on October 27.
When Lawrence joined the dance/drill team his freshman year, he loved his captains, and they were a big inspiration for him. He wanted to become a captain, just like them, so he applied for captainship. 
Lawrence really enjoys being a captain. "I like having this responsibility of keeping everyone in check, trying my best to be their role model, and putting a smile on my face," he said. "The most important thing is that I love dancing, because it makes me feel like me."
Lawrence finds that the hardest thing about being a captain is when he disappoints his directors, coaches, or teammates, especially if he lets them down during competitions. "It is the hardest thing, because you know that you messed it up. And in [performance] videos, you will always see that you messed it up."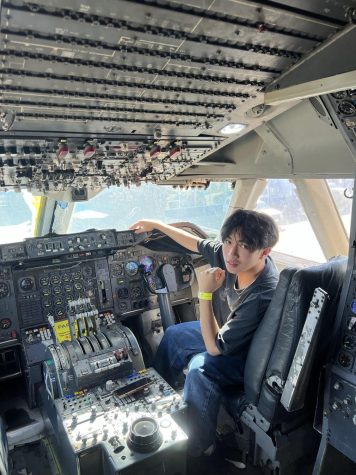 Lawrence and his teammates practice six hours a day, and sometimes they have a whole practice day. They also have frequent practices on the weekends, but in camp season, practice gets even more intense.
Lawrence is definitely going to continue dancing after he graduates from GHS. He can't imagine his life without it, and even though he will always continue dancing, he also has a dream of becoming a pilot when he is older. 
Lawrence's advice to everyone is to give dancing a try. "If you ever wonder how it feels like to be on the team, just come in for a day and watch," he said. "It is really a different environment, rather than being in school". 
If you are interested in being a part of next year's dance/drill team, talk to Lawrence or one of the other captains, or you can contact Ms. Kelly Palmer at [email protected]. Try to stay light on your feet, Nitros!