Vynce Cajanding Is Serving Up Success
Tennis captain wants all Nitros to follow their passions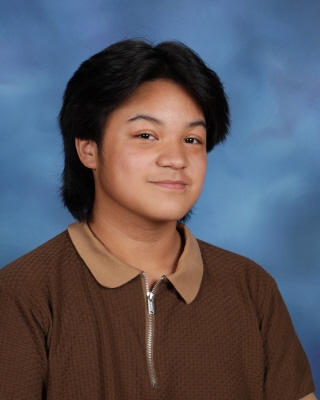 Junior Vynce Ian Cajanding is this year's Glendale High School tennis captain. He was born in the Philippines, and he moved to Glendale when he was eight years old. Vynce joined the tennis team when he was a freshman, and he started playing actual tennis during his sophomore year, because of the COVID-19 quarantine. 
Other than tennis, Vynce used to play volleyball, and he also played ping pong. During their usual practices in the off-season, the tennis team has conditioning on Mondays and Wednesdays, and Friday is a practice day. But when the team is in season, they play almost every day. They mostly focus on increasing their stamina, so they run a lot. 
Some of Vynce's hobbies include playing games and helping his cousins out with their cookie business. Despite how much Vynce loves tennis, he has a dream job of becoming a software engineer, but this doesn't change the fact that he will always play tennis, even after he graduates. 
Vynce really does enjoy being a team captain. "I think my favorite thing is [that] it does show my hard work," he said. "And I don't think there's anything I don't like [about the sport]." 
According to Vynce, no tennis technique is truly beyond the reach of anyone. "It honestly depends on the person," he said. He and his teammates run a lot during their practices because it helps them last longer during matches. When you first start playing tennis, you get tired easily. 
Vynce admits that his biggest challenge as a tennis player is his lack of concentration. "Sometimes I just zone out," he admits. "I think that is my biggest mistake."
Of all the great sports that we have at GHS, Vynce chose tennis, because he always wanted to play it.  "I just never had the opportunity, so taking it freshman year was my best decision," he said.
This is Vynce's first year of being a tennis captain but he really enjoys it. He also said that people should only join sports if they really have a passion for it because when you join a sport just for fun, you will start hating it over time. Vynce also believes that if tennis, or any other sport, interests you, you should definitely try it out and then decide if you want to continue or not. 
If you are interested in joining the tennis team, contact Coach Jenks at [email protected]. Get into the swing of things, Nitros!