On Thursday, October 27th, our Glendale High School varsity football team beat Hoover High School, during their annual Homecoming Game, with a final score of 18 to 13. The game finished with a final hail mary pass, on the last play of the game.
It was an amazing victory by our Nitro football team! We as a school are so proud of our boys keeping the bell for another year and securing a win against those Easy Breezy Tornadoes of Hoover. If you weren't there to experience the game, there is a livestream of the entire game available now on YouTube. 
There were many key plays during the game. In the first quarter, at the 3:57 mark, Justin Melville intercepted a pass from Hoover in the endzone for a touchback. In the second quarter, Glendale quarterback Jonathan Anaya threw a touchdown pass to receiver Melville, giving GHS a 6-0 lead.
Halfway through the third quarter Anaya ran for another Glendale touchdown, putting the score at 12 to 0. Later at the start of the fourth quarter, Hoover quarterback Ethan Davis threw a touchdown pass to Javon Lyman, to bring the score to 12-7.
With just over half a minute left in the game, Davis again snuck into the endzone for a Hoover touchdown, giving Hoover a 13-12 lead, and seemingly securing a Tornado victory. 
Fortunately, our Nitros had other plans.
With a great return from Daniel Autrey, Glendale was set up at the Hoover 30 yard line. With one last play left, Melville heaved it up for Daniel Autry, to put the Nitros up 18-13, with no time left on the clock!    
Bryant Marte, Justin Melville and Daniel Autrey were all definitely huge factors in this game. Bryant, a Nitro team captain, said, "We had a great practice a week before the game." 
"It definitely built our confidence for Thursday. I'm proud of our team. It was a difficult season but we overcame it, and put on a show for our home crowd."  
Justin Melville definitely gave it his all during the game. He not only had a key interception in the endzone, but he also scored a touchdown with an amazing catch. And to top it off, he threw the game-winner with all zeros on the clock.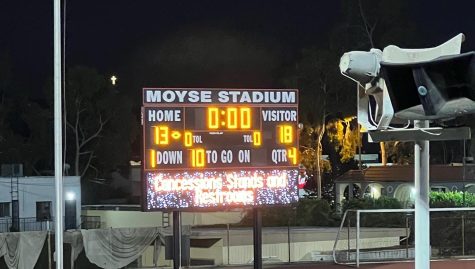 "It was an amazing experience," Justin said.  "After the play, I just wanted to take a breath and go into the stands and celebrate." 
Justin has a strong opinion on who the MVP of the game was that night. "Daniel, for sure," he said. "He was our main guy on defense, and he finished the night off with a game winner."
Daniel Autrey hadn't played football until this season and previously he was involved with the track team here at GHS. All that speed helped him reposition himself to the ball and plunge into the endzone after the catch. 
However, even after Hoover scored with less than a minute remaining, Daniel still knew that GHS would respond. "I never gave hope because our whole season was people not believing in us, so I relied on my team and myself," he said. "I'm eternally grateful to score in the last second, because seeing hope and joy come to people's faces made me grateful." 
All of us that were there at the Homecoming Game witnessed a once-in-a-lifetime experience, and if you ask me, this has to be one of the best Glendale/Hoover games in the 90-year history of the rivalry. Hopefully our team will turn things around and carry this win into next season.
Go, fight, win, Nitros!