Karlen Avetisyan Hopes to Sneak into a Future in Business
This sophomore president of two GHS clubs is putting his best foot forward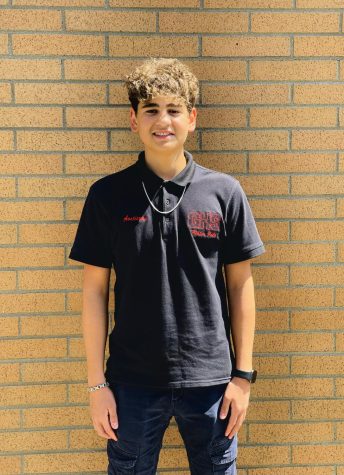 Karlen Avetisyan is a sophomore at Glendale High School. He was born in Armenia, and he moved to the United States in 2017. 
Karlen is currently the president of two clubs at GHS. Last year, he founded the Sneaker Club, which he originally opened when he was in middle school. He also became president of the Future Business Leaders of America Club (or FBLA), which was started by his older brother, Narek, who graduated from GHS last year and currently attends Cornell University.
Karlen's hobbies include biking, hanging out with friends and family, and watching TV. He also enjoys going on walks around his neighborhood. 
Both of Karlen's clubs have over twenty members. He absolutely loves being a club president, and he does not regret being involved in either of them. He loves the work that he does with them, and his clubs have become hobbies for him. "The things we talk about in our clubs are the things I enjoy and love to talk about," Karlen said.
Karlen has found that the hardest part about opening a club is the beginning time. You have to know where to start from and how to do all of the tasks in the right order to open a club. Then you have to find dedicated club members and create activities and community service opportunities to keep them engaged.
During their Sneaker Club meetings, Karlen and his members talk about fun facts about shoes, and they have different topics that they meet to discuss every month. They also organize donation drives, like their annual collaboration with the non-profit organization Soles4Souls. 
During FBLA Club meetings, they talk about business decisions that are going around the world. Karlen and his members further discuss the different ways that they can make money, both now as teenagers, and in the future as business professionals. 
In addition to his responsibilities as a club president, Karlen is also really passionate about writing books. He has already published two books, The Road to Accounting – Part 1 and The Road to Accounting – Part 2, and both of these titles are available for purchase right now on Amazon. 
Karlen's Sneaker Club is for people who are fun and exciting, and who love collecting shoes. "I know you [have to] sacrifice your lunch," he admitted, "but it is definitely worth it. You come to our monthly meetings, [and] we talk and just have a lot of fun." 
"And there are no rules," he added.
Karlen also believes that the FBLA Club is for all GHS students who want to finance their lives, both now and in the years to come. "If you are looking for ways on how to make money for your teenage years, you should definitely join my club," he said.  
If you are interested in joining the Sneaker Club, please contact Mr. Marcus Whithorne at [email protected], and to join the FBLA Club, send an email to Ms. Yvonne Taylor at [email protected]. 
Get sneaky and mind your own business, Nitros!