Nico and Tino Zadorian Make Life a Slam Dunk
Twin basketball captains are bringing a winning attitude to GHS
Nico and Tino Zadorian are twin brothers at Glendale High School, and they are both currently serving as captains for the boy's varsity basketball team. They were born in Burbank, California, and they joined the GHS basketball team when they were freshmen. They were chosen as varsity captains at the end of their junior year. 
Nico and Tino are currently in their senior year at GHS, and additionally, they are both members of ASB. Nico serves as ASB Secretary, where he must take minutes during each ASB meeting, and Tino is the ASB Director of Athletics, where his main responsibility is organizing the annual Powderpuff Football Game in May.
In his free time, Nico likes watching basketball games and collecting clothes and shoes. Tino also has a passion for shoes, and he enjoys cooking, practicing the guitar, and playing other sports, besides basketball. The brothers also spend their free time working out to stay fit, and they both love spending time with family and friends.
What was the reason that you both joined the GHS basketball team?
Tino: Well, we have been playing basketball our entire lives, so we wanted to play basketball for high school, too.
How did you both become basketball team captains?
Tino: Our freshman year, me and my brother didn't play at all, and…coming on varsity, we thought we were just going to get cut. But when Covid hit, we practiced every day, and we worked hard. 
And when we came back, we had a really good season. Our coaches saw all the potential we had, so I just want to say [that] any hard work you put in something, you can achieve it.
Nico: Yeah, just put in your hard work and you will achieve it.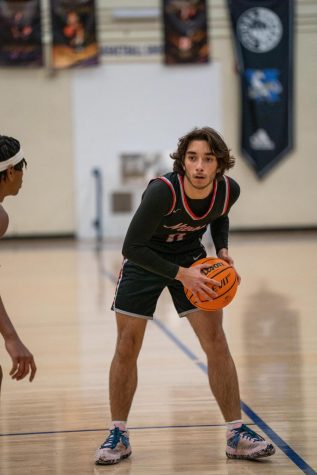 How does it feel to be a basketball captain?
Tino: It's a lot of weight on our shoulders, because whenever someone is not doing [something] right, we have to go up and tell them that. We have to be really trustworthy and confident. We also have to stay very calm. But if we have to call someone out, we have to use our voice, no matter if we want to or not.
Nico: To be a captain, you have to be one of the best players on the team, and the loudest one with vocals, and I guess our coach saw us like that. We have to keep all our teammates in check, and you have to be there for everyone. 
Is it hard being on the team while also being in ASB?
Tino: No, it's not hard being in both. You just have to manage your time.
What is the hardest thing about being a captain?
Tino: The hardest thing is that you can't get mad. You have to stay very patient and keep everything cool, because if something is going on, the worst thing you can do is to get mad. Because [then] the team gets mad, and then everything basically falls [apart]. 
Nico: Basically, you have to be the loudest one, and always be there for your team, and act like a coach, because [our] coach isn't going to understand what you do on the court. So you have to be the coach on the court, and you have to not lose your temper, because the way you play is the way your team is going to play. 
How do you guys start your daily practices?
Tino: We first stretch and then we play. We mainly do five-on-five, in-game situations, so that it can help us in actual games. And then sometimes it gets very competitive, and yeah, I love our practices. They are super fun.
Nico: And sometimes we might do shooting drills or [practice] dribbling, but mainly it's five-on-five.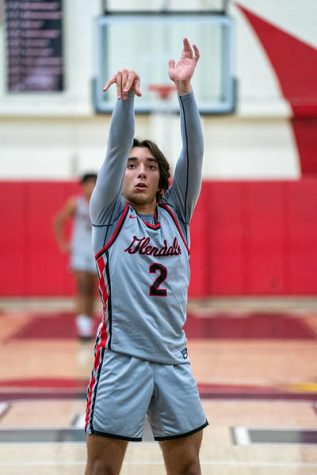 Are there any common mistakes you guys make while playing basketball?
Tino: A common mistake I made once [was that] I yelled at one of our teammates, and my coach got mad at me.
Nico: Yeah, I once got mad at one of our players, and he got mad, too, and just the whole game vibe got ruined.  
Why should people join the basketball team?
 Tino: The coach is amazing! He makes you love basketball, and it's just a very team-effort sport. And it's fun to watch, and you build a family. You see them every day, and they feel like brothers to us. It's not all about just basketball; it is also just about brotherhood! 
Do people ever mix you guys together? 
Tino: Yeah, yeah, all the time. People always confuse us.
Nico: And sometimes we play along, too! 
If you would like to join the boys basketball team next season, please contact Coach Art Samontina at [email protected].