Yoga May Be the Solution to Your Well-being
How can yoga help support your mental health?
We all know how important it is to look out for and take care of our mental health. It's just as important as taking care of your physical body! There are times when we feel stressed out or anxious, so yoga may be the perfect way to relax and to keep your mind healthy. 
When you think of the word "yoga", you probably picture people moving their bodies into different poses and working on their flexibility. However, yoga is a lot more than just a series of body poses, because it can also help with your mental and physical health. 
Yoga improves your breathing, boosts your metabolism and immune system, and reduces stress and anxiety. Besides, it improves flexibility, provides protection from injuries, and increase muscle strength. There are a variety of yoga performance styles, but almost all of them include physical postures, meditation and breathing techniques.
The great thing about yoga is that it can be done at home, as well as at a yoga studio. There are many yoga studios near Glendale that you can visit, and two of the best yoga studios are Spiritual Heart Yoga and Kinship Yoga. 
Spiritual Heart Yoga is located in Montrose, which is about a ten-minute drive from GHS. They offer both live stream and in-person classes. You can visit their website and look at their class schedule. They are very flexible and they have many different options available.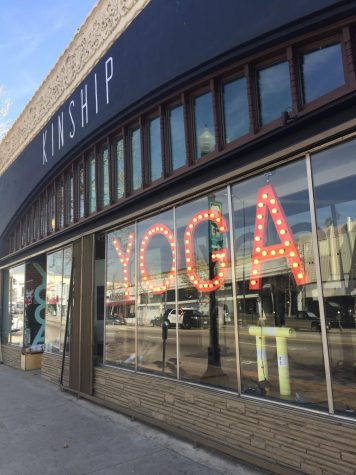 Additionally, Kinship Yoga is located in Los Angeles and it's about a fifteen-minute drive from our school. They also offer a variety of classes that you can choose from, and their schedule is pretty flexible, too! 
Besides these two yoga studios, many gyms also provide yoga classes. Some of them include Equinox, Fitness 19, and Hype Silverlake. 
And if you don't feel like paying for in-person classes, you can totally do yoga at home. All you need is just a mat and a TV or laptop. There are a variety of YouTube channels that provide yoga tutorial videos that you can do at home. 
You should start by watching some beginner tutorials, and as the time goes by, your body will become more flexible and increase in strength. You can then move on to more professional yoga programs and become better and better at it. 
I have found a number of YouTube videos that have really helped me relieve stress and build flexibility. The best videos for me are made by Jessica Richburg and Boho Beautiful Yoga.   
Doing yoga for just ten minutes every day will be enough to have an effect on your mental and physical well-being. It will help you clear your mind and reduce your stress levels. 
Always remember that you, and your mental well-being, should be your number-one priority. I know that attending school and doing schoolwork can sometimes be very tiring and draining. That's why it's important to take breaks and calm yourself down when you can. 
Take care of yourself, Nitros!