Maria Bagumian is a senior at Glendale High School and she has been a member of the GHS Journalism staff since her sophomore year. Maria is happy to tell us about her own experiences in our journalism class and as a member of the Class of 2023.
Maria has been involved in many activities during her four years in high school, including Journalism. Her upcoming plan is to attend Glendale Community College as a Kinesiology major, and she wants to eventually become a physical therapist. 
Maria is so excited about graduation, because she is going to start a new chapter in her life and get closer to her future goals. She mentioned, "Even though a lot of people think Glendale High School is not developed enough, or not the best school, I think our school includes a lot of great programs for you to succeed. I love the GHS vibe and our Nitro community." 
Despite all of the classes that Maria has taken during these past four years, Journalism is definitely one of the most memorable and special ones for her. It's indeed true that the most unexpected things turn out to be the most memorable ones! 
Maria took Journalism by accident, because she needed it for elective credit and there was nothing left besides that class. At first, she thought it would be a boring and difficult class, but after a few weeks, she realized that she enjoyed writing and she even thought about Journalism as a possible college major. 
During our interview, Maria mentioned the name of her Journalism teacher, Mr. Jon Livingston, a lot, and she said a few times that he is a very special teacher for her, and even a friend. She feels that Mr. Livingston has taught her so much, and she will forever miss how, at the end of each year, he would ask, "Maria, are you taking Journalism next year?" She said that this year, it was very unusual for her to not hear those words again. "Mr. Livingston is truly a great teacher, who's always there to support you and just be a friend for you," Maria said.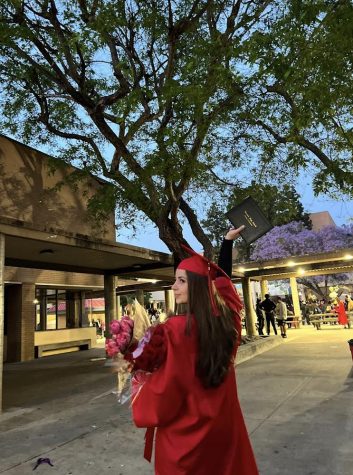 Maria feels that being a part of the Explosion staff has been an overall great experience, and that she has gained a lot from Journalism during these past three years. Her writing and communication skills have significantly improved, and she recommends this class to all GHS students. Even though it seems like a boring class, it's actually the opposite. Mr. Livingston is also very supportive and helpful to his students!
As a future career, Maria is mostly interested in things related to homes, like interior design and real estate. Besides becoming a physical therapist, she also plans to be a real estate agent in the near future. She also has her own business, where she does balloon designs for different occasions. You should follow her on Instagram: @balloon_bell_la.. 
In the end, Maria wants to be remembered as a positive, helpful and friendly person at GHS. She loves her school and feels like she matches the whole vibe on our campus. It's exciting for her to graduate, because she is going to welcome new opportunities into her life. But she is also sad, because she will miss the people, classes, and teachers at our school. It is difficult to move on and realize that the people you see every day won't be with you forever. 
"I'm ready to move on to the next chapter of my life," Maria said. "GHS stays strong, [because] we are the best out there."