I Love You 2000's
The fashion and music of 20 years ago are making a comeback, and we're here for it!
The early 2000's were when the students here at Glendale High School were barely even born. However, it was arguably one of the best times for music and fashion.
The music and clothing of this era were notably iconic. 50 Cent, Rihanna, Jennifer Lopez, and Beyonce are just some of the celebrities that made a major mark on the pop culture of this era both, in terms of fashion and music.  So, it's awesome that Y2K is making a comeback!
The Fashion
Paris Hilton, who some refer to as the queen of the early 2000's, was known for rocking matching velvet tracksuits. These were very in-style back then, for a comfortable, yet cute look. Juicy Couture was the most popular brand of tracksuits to wear. The brand collaborated last year with Forever 21, a modern popular clothing company, and released a collection inspired by the early 2000's. The collection includes a new take on the iconic tracksuit. 
The Juicy tracksuit comes in lots of different colors, styles, and materials. Not only are they comfortable to wear while on the go, but they add a presentable look, since the colors match. The tracksuit is also flattering and inclusive of any body type. You can never go wrong!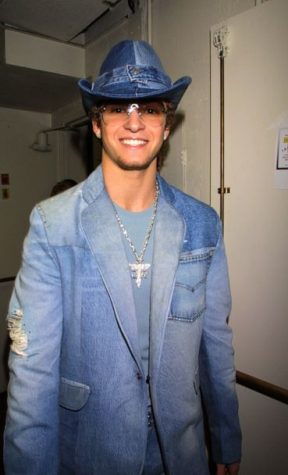 Denim has always been in style, and nowadays, we mainly see denim jackets or pants. In the early 2000's, any article of clothing made of denim was fashionable. Justin Timberlake famously wore an all denim outfit to the 2001 American Music Awards, making the style really popular.
Denim is really a timeless look. It has never gone out of style, and it certainly won't be going out of style any time soon! Denim pants and jackets are always a good option for any occasion. You can spice your jeans up by adding some fancier shoes, or dress them down by pairing them with sneakers and a hoodie. "Mom jeans" have been the most popular style of jeans recently.
The Music
Britney Spears was one of the most successful artists of the Y2K era. "Toxic" dropped in 2003 and received major success worldwide. The single topped the charts of Hungary, Ireland, Norway and more. It also won the 47th Grammy Award for Best Dance Recording. Her other songs such as "…Baby One More Time" also had a significant impact on pop music throughout this generation.
People really loved her "baby-like" voice because it is unique to her, and this became Spear's signature singing style. She is also a great entertainer, as she wore really cool costumes while dancing and singing at the same time.
Rihanna is one of the biggest faces of pop and R&B music today, as she was decades ago. Her song, "Umbrella", featuring Jay- Z, won the Grammy Award for Best Melodic Rap Performance and two MTV Video Music Awards. It is safe to say that pretty much everyone at our school knows and grew up with this song. 
Rihanna has a really strong fan base, even though she hasn't released a new album since 2016. Since then, she's been working on her beauty line, Fenty Beauty, which has been extremely successful. Fans love the brand because of the variety of shades and how universal the products are.
It's really interesting to wonder if the music and fashion from the 2020's will make a comeback 20 years from now. Nevertheless, the 2000's clothing and music definitely deserve the attention and hype they have been getting recently! 
Look back to move forward, Nitros!