Sarine Kaloghlian Is a Baller!
One of our girls varsity basketball captains will bring a successful season to GHS.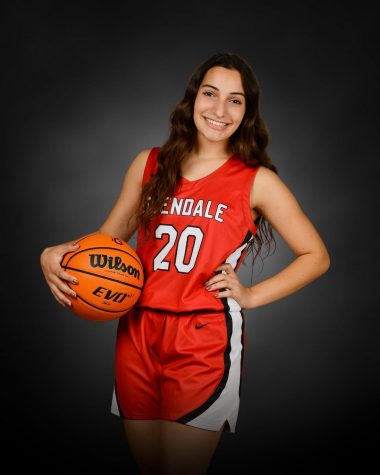 Sarine Kaloghlian is a senior at Glendale High School. She is also a captain of the girls varsity basketball team, the president of the Make-A-Wish Club, and is currently serving as the ASB Vice President. She likes to read and crochet.
Sarine's basketball career began when she was in the sixth grade. She was involved in an Armenian league and a club team. She started playing basketball because of her older sister. She saw her sibling making a lot of friends through basketball, and Sarine wanted to be a part of that too. 
This is Sarine's third year on the varsity team and her second year as a captain. During her first year at GHS, her freshman team came in second place in their league, and then in her sophomore year, they had a final record of 19-8. Her junior year, the team made it to the second round of the CIF Playoffs.
Sarine's coach, Mr. Tadeh Mardirosian, chose her as a captain, because she has a presence on the team. She lifts up her teammates, she is able to communicate with everybody, and she holds her teammates accountable for their actions. Most importantly, Sarine is there for her teammates, and she works hard to help them succeed. 
Sarine's favorite part about being on the basketball team is her fellow players. Most of them are her closest friends, and she hangs out with her teammates all the time. It is also easy for the players to connect with their coaches, and Sarine loves the fact that when it comes to practice, everyone goes hard and wants to become better.  
Sarine's goal this season is to make it into the top-three position in their league and to make a long run in the CIF Playoffs. Her hope for the future of GHS girls basketball is that more girls will be encouraged to join the team and help the program grow. 
If you are interested in joining the girls basketball team, please email Coach Mardirosian at [email protected].