Lauren Claire Avelino Will Be your Best Bud at GHS
The new Best Buddies president would love for you to join her club!
Lauren Claire Avelino is a senior at Glendale High School, and she is the president of the Best Buddies Club. She is also a Nitro Crew Leader and the Editor-in-Chief for Explosion, the GHS online news site (which you are currently reading right now, obviously). She enjoys spending time with her family, reading and writing, and listening to music. 
Best Buddies is an international organization where people create friendships and bonds with other individuals who have intellectual and developmental disabilities. It has been a club at GHS since 2011. 
Lauren has been a part of the Best Buddies Club since her sophomore year. She first heard about this club from her P.E. teacher, Mr. Belou, who encouraged her to join during her freshman year. However, since it was her first year at GHS, she was unfamiliar with the school and was a little hesitant to join any clubs. 
However, Lauren eventually fell in love with the Best Buddies Club during her sophomore year, because she appreciated the fact that it "promoted inclusion and made sure that everybody was involved with the club's activities, regardless of their abilities." 
Lauren recalls that during her first day of being in the club, the students that she was surrounded by were all really hyper and had good energy. "I remember that whenever we would play basketball inside the gym, and I'd make a basket, everyone would start cheering for me," she added.
Throughout the school year, the Buddies participate in various activities on campus and outdoors. They have made holiday cards during Thanksgiving and Valentine's Day, and they have also attended Seniors' Night for the boys' basketball team. 
Every year in May, the Best Buddies organization holds a Friendship Walk Event, where each Best Buddies chapter in Southern California participates in a walk in Long Beach. The club also participates in the Special Olympics, which is held at different high schools each year.  
Lauren expresses that the biggest reward for being a part of Best Buddies is "seeing people with different abilities come together." She feels that seeing people happy and smiling, "is the best feeling ever."  Lauren also expresses that her goal for the club is to make sure "that every member is enjoying the club meetings and feels like they are in a community where they belong." She also wants to guarantee that students can make friends when they join this club.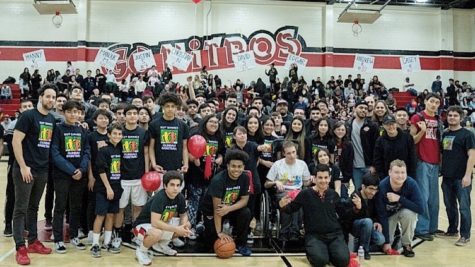 Since Best Buddies focuses so much on inclusion and bringing people with different abilities together, one thing that Lauren would like people to know is that "just because you have a disability, it doesn't mean that you are not able." She believes that people "are more capable than they think" and that they "have the ability to do whatever they put their mind into," if they just believe in their capabilities. 
If you'd like to join the Best Buddies Club at GHS, you can contact their advisor, Mr. Rosales, at [email protected]. They meet on Wednesdays and the locations may vary. You can also check them out on Instagram @ghsbest_buddies!