Zare Arakelyan Is the Artist of This Time!
GHS brass captain is leading the march of music!
Zare Arakelyan is a senior at Glendale High School, and he is the brass captain of the marching band. He was recently a member of the champion GHS Scholastic Bowl Team, which defeated the other schools in our District on March 10th.
Zare enjoys hiking, reading philosophy, playing music, and training in jiu-jitsu. He also likes to listen to jazz.
Zare started his career of playing brass instruments in sixth grade, because the orchestra needed a horn player and he said, "Why not?" He has been playing his brass instruments for six years now, but he has also been playing the piano for eleven years.
Zare plays most brass instruments, but his main instruments are the French horn and the mellophone, which is his favorite because it has a nice tone. He also plays the trumpet and the trombone from time to time.
Zare started playing music, because for him it is a great representation of life and human experiences. He feels that the world is full of patterns and that music has this quality as well. Music for him is a higher form of art, and he is the artist.
When Zare was in middle school, he won District competitions for playing piano, and he also received awards from his conservatory and concert performances. At GHS, the jazz band used to attend music festivals, but ever since COVID-19, they have been unable to go. 
Over the past four years, Zare has had an interesting journey, going from a regular member of the music department to being a captain. He always saw what it was like to be a captain, and he now enjoys it so much. He is pleased to know that people rely on him to perform well.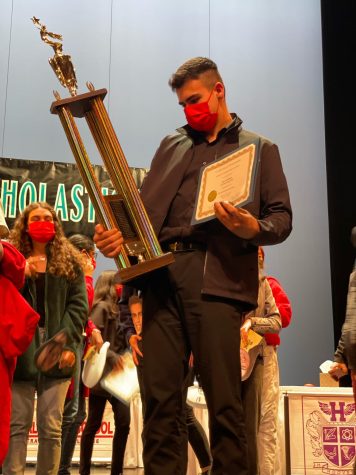 It was initially a challenge for him to learn how to take a leadership role in the band. He learned that captains must balance when it's time to be friends with his bandmates and when it's time to be their captain. 
He first became a captain during his sophomore year and the transition for him was not easy. As a freshman, he would mess around a lot in marching band, and he had that reputation going into his sophomore year. But he was able to set aside his immature ways and take the band much more seriously. He performed well, practiced well, and gained the trust of the people around him. 
Zare enjoys band practices, because everyone has the same passion and goal. It's fun for him to interact with other people on that level. His favorite part about being a captain is running rehearsals. Whenever he gets the opportunity to make music with his friends, it is always a good time for him. But the hardest part about being a captain is having to manage his friends.
GHS bands perform throughout the year, including their winter and spring concerts, but they also attend several gigs around the city, including the middle schools.   
If you would like to be a part of next year's marching band, you can select it as one of your electives, or you can go to the music room 8101, and talk to Ms. Rangel about joining. She can also explain the audition process for our jazz band and the other music groups that we have on campus. 
Get the music in your soul, Nitros!