Rita Malallah and Narek Avetisyan Are Taking Huge Steps to Success
GHS seniors have both been accepted to Ivy League colleges in the Fall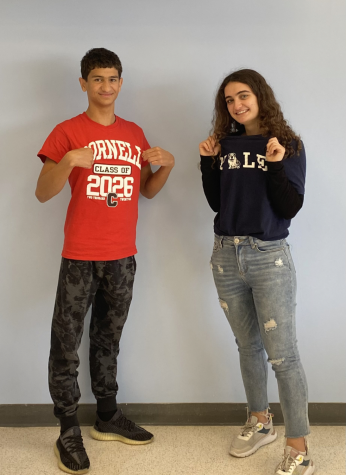 Having goals is not enough to continue living by dreaming, because arduous work and confidence will conquer the world. Narek Avetisyan and Rita Malallah, who are both seniors at Glendale High School, are happy to announce their big accomplishments of being accepted to prestigious schools for higher education on the other side of the country. 
Narek was accepted to the Dyson School of Applied Economics and Management at Cornell University for the 2022-23 school year. The Dyson School has a 5% acceptance rate, and Narek is planning to major in Finance. There might be a lot of undergraduate business schools, but Cornell's is the hardest to get into.
Narek worked hard for this, and it was a goal for him. To prepare for college, he also started his own clubs, which is something that the universities want to see. He also founded a nonprofit organization on his own, which helped other people do volunteer hours and learn more about finance. 
Narek felt that he would get accepted to Cornell, and he was more than ready to leave his hometown for an education in one of the highest-ranked schools in the United States. It's the time for Narek to start his journey and be more independent by leaving for higher education.
On March 31st, Narek found out that he got accepted to Cornell University, and it was the last university that he was waiting to hear from. His family was incredibly happy and excited for their son to begin his new journey. 
Narek shared his happiness first with his father, then with his mother, and then with his brother and friends. Narek's father left for work on that day, so he could be alone at that long-awaited moment to read the decision with hopeful results. When he finally saw it, he called his father immediately. His family and Narek himself were filled with unusual, but positive emotions.
Narek came to the US from Armenia four years ago, and it is not always easy to start a journey in a new, different country. He also thinks that completing all the requirements was harder for him as an immigrant, but when college applications are reviewed, the admission officers always keep in mind that you have done all those activities as an immigrant. Your life completely changes by moving to another country and finding a future in a different location, but Narek has proven that it's not impossible.
Narek said, "If you have a goal, research what you need to get that goal set." Taking AP classes is a great way to keep your GPA high, but you want to stay more focused on your extracurricular activities and essays. Narek also mentioned the great news from Cornell University, which provided him with a 90% grant, so he will only be paying a fraction of the cost to attend.
Rita is also a senior at GHS who was accepted to Yale University. She will be majoring in Psychology, while also being on the Pre-Med track. She wants to be a doctor, because it will allow her to help others, while learning about the complexities of the human body. 
Rita was not sure that she would get accepted to Yale, and it was her second-best choice for university. But she achieved that success through her confidence and by taking on more challenging work in high school. 
Rita thinks that the main reason for her getting accepted to Yale is her unique life story. She grew up in the Middle East during the war in Syria. There is no doubt that she has done a lot of work and completed all of the requirements necessary for higher education, but her life story was a unique addition to her application. Nothing kept Rita from finding her future here in the United States and showing everyone her confidence.
Rita participated in clubs, sports, and our own ASB, and she has been a peer counselor. She has also participated in a lot of activities during the summer breaks, which also added value to her application. Taking part in all different kinds of activities at schools will be the best way to get accepted to a four-year university.
Rita has never been far from her family for very long, but it feels exciting to live away from her hometown to further her education. She believes that she will learn so much by herself and become more independent, and she does not want to always depend on her family. Rita will be visiting her family during breaks, which will help a lot to not become homesick.  
On December 1st, 2021, Rita got an email during school hours, and she decided to leave the email unread so that she could read the results at home with her father, who was so happy for her. Although the far distance will not be easy, this will be a fantastic opportunity for Rita's future, which should not be missed. 
Rita said, "Don't be afraid to do things that you are not comfortable with and aim high, [and] have goals." Going out of state for education is a life-changing experience, and she will definitely grow and become more mature when coming back to her family.
All Nitros should always dream big and not let anyone put them down. You should also put a lot of effort into the writing sections of the college applications, because a lot of universities care more about how you are as a human being, rather than your GPA. 
You should also challenge yourself as much as you can and show the universities that you are willing to learn and grow academically. You should ultimately enjoy your school years, by not only studying, but also by participating in sports and other activities available at school.  
Narek and Rita are giving all GHS students a splendid example of success and how to achieve their goals. They worked hard for this process and did not only dream big. They also put in the effort and worked for those dreams.
GHS is proud to say that these two amazing seniors attended our school, and we should all work hard to follow the example that they have set for all of us. We wish the very best to Narek and Rita, and we are confident that they will both achieve great things in the future!