Pirates Invade GHS!
The first drama production on our campus in several years delivered many treasures!
After much time and anticipation, Glendale High School's Drama Department finally released a new production on our campus. Peter and the Starcatcher premiered on February 15, 2023 and was performed in the Little Theater for a four-night run. With a total cast of nineteen students (and one Nitro teacher), led by co-directors Ms. Holly Donohue and Ms. Sona Postajian, this production shook the school scene to its core!
Peter and the Starcatcher is a reinterpretation of the beloved Peter Pan story. Written as a prequel to the original J.M. Barrie novel, the play details the adventures of an orphan boy who helps Molly, a young starcatcher, to protect a chest of magical starstuff from falling into the hands of the greedy pirate, Black Stache.
The production featured sophomore Explosion staff writer Hasmik Tumasyan as Peter, freshman Thora Anderson as Molly, and junior Emily Colin as Black Stache. These actors gave absolutely fantastic performances, bringing the characters to life and further immersing the audience in the story. Nevertheless, the supporting cast was amazing as well, with one highlight being Mr. Jon Livingston as a ditzy mermaid named Teacher. 
All the actors and directors spent weeks bringing the play into top shape. The cast had to memorize lines, learn choreography and perform musical numbers, and they did so to a stunning effect. "It was difficult, but it was worth it, since I got to work with so many amazing people," Hasmik declared. "Memorizing that many lines was hard, but I was motivated throughout, due to how fun the story was."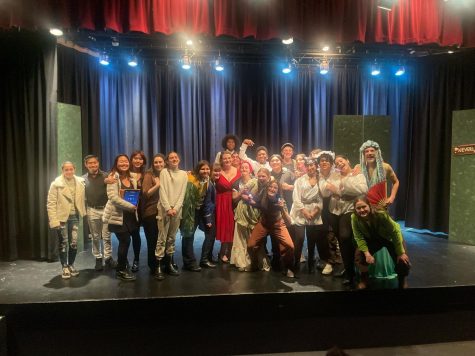 The production was a hit, having a full house for all four nights of its performance. The jokes, presentation, and acting kept audiences coming back for more. "We had really good audiences," Thora remarked, "They laughed at everything and were really supportive. Some of the audience [members] even brought the cast flowers and gifts."
All in all, Peter and the Starcatcher was a fun, drama-infused production. The GHS Drama Department did a fantastic job putting on the show, and it was well-received among the students of GHS. We look forward to the many productions that Ms. Donohue, Ms. Postajian and their actors will put on in the years to come.
Keep up the drama, Nitros!