Kristina Kugaevskaya is a senior at Glendale High School, and she is the co-president of the GHS Book Club. She is also the current Editor-in-Chief for the GHS Explosion website, and this is her second year as a member of Nitro Press.
Born in Russia, Kristina moved to the Dominican Republic at four years old, and she then moved to California in 2019 at the start of her freshman year of high school. She enjoys reading, scrapbooking, and baking.
As president of the Book Club, Kristina describes this group as a community. "It's a safe space for people who love books to come together," Kristina explained. "We pick different books, we discuss them during meetings, and sometimes if there's a movie that's related to the book we might watch it."
Kristina's passion for reading was one of her main motivations for joining the Book Club during her sophomore year. She became a co-president this year, and her interest in doing so was inspired by last year's president. "The previous president, Leona [Khodabakhshi], was very passionate about what she did," she described, "I wanted to live up to that image by taking over her legacy of the Book Club."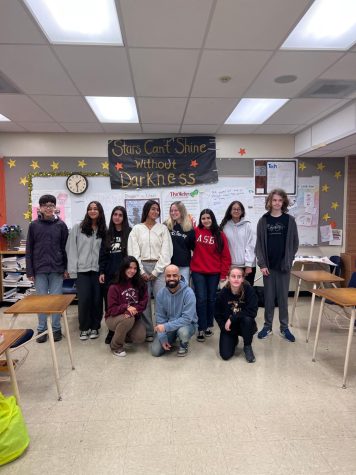 Kristina leads the Book Club alongside her co-president Emma Gonzalez. Brought together by their love for reading, these best friends split president duties to make the club enjoyable for all their members. 
"It's nice to have another person by my side. Coming to Book Club every week is this maifestation of our friendship, and [by] spreading it towards other people, we really enjoy that," Kristina expressed.
During Book Club meetings, Kristina loves the conversations and debates that spring up from members' different opinions. "When people disagree with you, it becomes this discussion and you get to see other people's perspective and share the passion of your opinion with others," she said, "I really enjoy that. The crowd is so mixed, so we often have very rivaling opinions on things." Different opinions, debates, and playful arguments are all things that make the Book Club enjoyable for its members.
With the Book Club being such a great community for book lovers, Kristina has certainly done her job in leading the club. In the future, Kristina hopes to go out of state for college and major in finance, while possibly majoring in creative writing as well.
If you are interested in joining the Book Club, please contact Peter Gebeshian at [email protected]. Keep reading Nitros!