Jeanne Padillo Talks Team Spirit
The powerful golfer has strong opinions on competition and team bonding
Jeanne Padillo is a junior here at Glendale High School and plays on the girls' varsity golf team. Born in Los Angeles, Jeanne enjoys baking and playing volleyball and basketball with her siblings.
While there is no concrete captain on the varsity golf team, Jeanne guides and helps her teammates through their season. "If they need help with a ruling or if they need help with a swing, I'm always there to help them out," she explained. 
Jeanne has been playing golf for more than ten years, and she has been on the girls' golf team since her freshman year. She expressed that her coach and teammates are part of the reason that she has continued to be a member of the team. "I love my coach. I love my teammates," she said. "I like that I get to see the same people every single week."
Jeanne was excited to compete with her teammates this year. "I'm really grateful that we have a full team this year," she said, "so we can actually compete and see where we place compared to the other teams." With her senior season coming up, she is enjoying being a member of the team while she can, especially by making memories with her senior friends who are leaving this year.
Although she competes in the varsity league, Jeanne feels that playing golf competitively is simply a fun get-together and not at all intimidating. In addition to competing with her teammates, she really enjoys getting to see her friends from other schools at her competitions. "I play with my friends every single Wednesday, so it's something I look forward to," she said. "It's like our bonding time."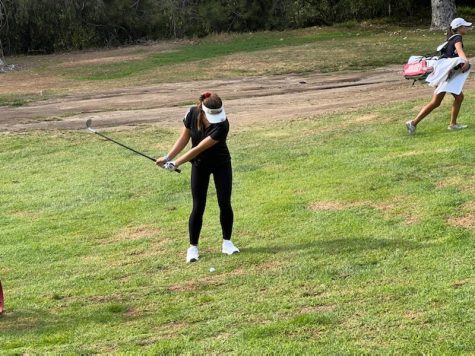 In addition to her teammates, Jeanne's younger sister Erynn Padillo also plays on the team alongside her. Jeanne feels that golf is a great way for her and her sister to bond. "My sister and I do everything together. We're practically twins," stated Jeanne. "When I'm at the golf course, she's at the golf course; we're just connected to each other at all times." 
Jeanne has finished in fourth place in the Pacific League this season and hopes to have a strong showing in the CIF Playoffs, and with her skills, it's well within the margin of reality. She is currently looking into a college scholarship for golf, and she has already talked to a number of coaches.
While Jeanne doesn't think she'll become a professional golfer, she would like to pursue dermatology in the future. In the meantime, we can't wait to see how far she will go in her senior season next year! 
If you are interested in joining one of our GHS golf teams, please contact Coach Anthony Mohr at [email protected].
Editor's Note: Since the publication of this article, Jeanne has been offered a full scholarship to play Division I golf at Seattle University, where she will enroll in the Fall of 2024. Way to go, Jeanne!