GHS Wins 2022 Scholastic Bowl
Nitro team comes from behind to claim Scholastic Bowl Championship
The 2021-22 Glendale High School Scholastic Bowl team finished in first place at this year's annual competition against Hoover High School, Crescenta Valley High School and Clark Magnet High School. The event was held on March 10th at the Glendale Performing Arts Center, where in-person guests were welcome to watch for the first time in two years. Viewers could also follow the action from home through a Zoom webinar.
This was a huge improvement over last year's second-place finish. Only team captain, Gabrielle Arreglo, and senior, Lilly Armstrong, were members of that squad.
This year's Scholastic Bowl was extremely exciting, with Emmy-award-winning news anchor Araksya Karapetyan serving as quizmaster. Our own GHS team consisted of Zare Arakelyan, Daniel Armstrong, Lilly Armstrong, Gabrielle Arreglo, and Jeta Cooper Johnson.
The Scholastic Bowl competition consisted of three main parts: a timed essay competition, a team answer round, and a buzz-in answer round.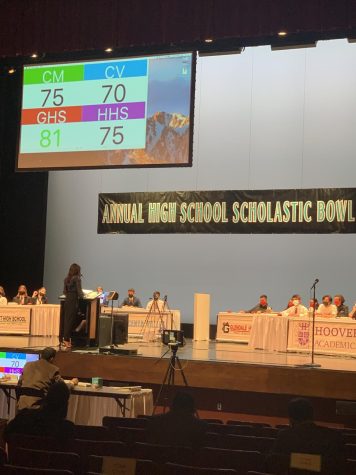 The GHS team had a rocky start, with the lowest-scored essay, which started them off in last place. However, they were able to bounce back in the following rounds, trading the lead back-and-forth with the Hoover team. By the end of the competition, GHS finished with 81 points, Hoover and Clark tied for second place with 75 points, and Crescenta Valley coming in third place with 70. 
Their victory did not come without challenges, as the team dedicated a great deal of time to practicing for the competition, as well as a last-minute complication. Our senior team member, Daniel, broke his finger just before the start of the event, but he still decided to stay and compete.
After their win, Lilly stated, "I'm really proud of my team, we worked so hard." In celebrating their win, Zare confirmed, "Glendale is number one. We're the best, we're the smartest, [and] that's never gonna change."
We are incredibly proud of our Scholastic Bowl team for their dedication and intellect, as well as the hard work of their advisors, Ms. Sarah Morrison and Ms. Kelly Palmer. Quizmaster, Araksya Karapetyan, definitely felt the effects of their victory. "Most importantly I think I'm leaving here feeling really inspired and encouraged" she said. "There's so many young people who do such great work, and are so smart and go-getters. It makes me feel like there's hope in the world."