Zare Arakelyan Is All About That Jazz
Zare Arakelyan is a 16-year-old junior at Glendale High School, and he is a member of the GHS Jazz Band. He was born in Pasadena, California, and he likes to hike, to study music, and to learn about history. He expresses that music "plays a critical role in all cultures worldwide", and learning about history "helps me understand the past and the world around me."
Zare introduces Jazz Band as a program where the musicians devote an hour of their day to get together and make music.
His first experiences being in Jazz Band…
I joined Jazz Band sophomore year, so this is my second year. During the second semester of my freshman year, I discovered jazz when I joined Jazz Squad, the starting jazz ensemble. I instantly fell in love with jazz because of how free it is, especially compared to classical music, which I had grown used to. The jazz band community was very welcoming and warm, so I felt comfortable and encouraged to join, and I have not regretted it since. 
Activities that this program does throughout the school year…
Throughout the year, jazz band has several school concerts, but we also do a lot outside of school. For example, we often go on gigs and perform in places like the Glendale Civic Auditorium. We also compete in festivals and competitions within the District and the Southern California region. Jazz Band members also form their own little groups and perform in variety shows from time to time.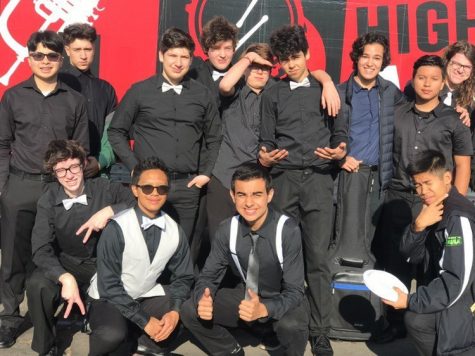 His favorite memory of being a part of Jazz Band…
My favorite memory is probably our gig at an old ladies club in La Crescenta last year. There's nothing quite like skipping school to go play music with your friends and get fed by grandmas [afterwards]. The best part of being in Jazz Band is being a part of the community and making memories like that one. However, you do have to practice a fair amount so that the standard of music doesn't fall. We work hard and play hard, basically.
Any advice that he would give to future Nitro musicians…
Be confident, open-minded, and immerse themselves in music. Don't be too shy or reluctant to be a part of the community, because then you won't have the full experience. Be open to advice and suggestions from your classmates, because listening to each other is how we grow as a group. The best way to grow as a musician is to listen to a lot of music and practice. The most important thing is to love what you do.
Ultimately, Zare feels really grateful to be a part of this program. He wants to continue to play music as a hobby, but sees himself becoming a lawyer in the future. After high school, he wants to attend GCC and USC for his undergraduate degree, and then he hopes to attend a top law school, like Harvard or Yale. 
If any underclassmen are interested in joining one of the various music programs on our campus, please feel free to contact Mrs. Rangel at [email protected]!