Carmelo Geron Brings Harmony to the World
Our astounding club president is also a music master!
Previously, I wrote about Carmelo Geron's involvement with three different clubs on campus. But did you know that he is also currently our marching band drum major?
Carmelo's interest in music started in 8th grade when the GHS music department came to his middle school. Ms. Amy Rangel informed students that they were holding marching band auditions for the Fall 2018 semester. At first, Carmelo was hesitant to audition, but he "decided to do it anyway because my friends [were] doing it". 
As the marching band drum major, Carmelo's job is to lead the band during performances. He "had to work my way up" to earn this position. After auditioning for many leadership roles in marching band and being turned down, he realized that motivation and dedication was what he needed to be a drum major.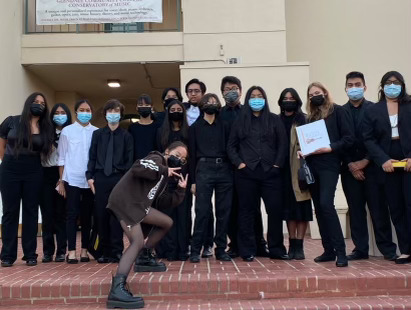 Carmelo is also the co-founder of the Glendale Youth Symphony. Back in 8th grade, he volunteered in his church's ensemble, and his music director wanted to start a youth orchestra. Carmelo decided to invite more people into the group, and by October of 2020, GYS grew to a membership of about 20 musicians. 
The benefit of GYS is to "give people a way to continue their hobbies or passions for music." During rehearsals, they play classical repertoires and chamber music. The musicians have performed at Glendale Community College and at a homeless shelter, and were even featured in the LA Opera.
One of Carmelo's favorite moments being in the marching band was our recent Homecoming Game. He got to lead the band whenever they performed, and he also got "to see the new friendships [that were being] made." From his perspective, there are more students in marching band this year compared to his freshman year. 
The most challenging part about being in marching band is getting things done. Carmelo mentioned that they have strict deadlines and "it pressures us to keep doing what we need to do." But the stress is worth it, because their "job is to give entertainment for the audience and [they] want to make sure that people are actually entertained."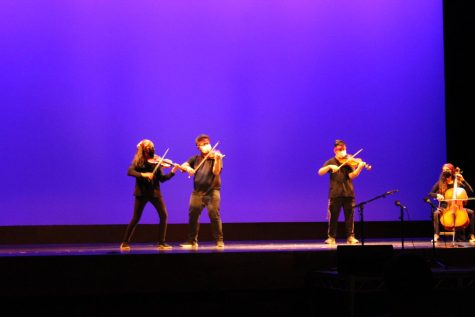 Overall, the whole marching band community has kept Carmelo going with his music career. He has made new friends in this program, and it has taught all of them how to work hard and persevere. 
After graduating from high school, Carmelo plans to pursue a career in virology, because of his interest in science. He still wants to keep playing music as a hobby, while also continuing to manage GYS. 
If you'd like to join any of our music programs next year, feel free to contact Ms. Rangel at [email protected]. You can also check out their promotional video by clicking HERE. Keep on chanting, Nitros!