GHS Football Brings Home the Bell Against Hoover
"Beat Hoover Day" turns into a victory for the final game of the season
On Friday, October 29th, 2021, Glendale High School played its last home football game of the season against their long-time rival Hoover High School. The game is also known as the "Battle of the Bell", as the team played hard to bring back the bell to GHS. Ultimately, our boys swept away those Easy Breezy Tornadoes, and the final score of the night was 39 to 8.
Many Nitro fans came onto the stands and hyped up the night. Teachers and staff members were also present, including our former assistant principals, Ms. Diana Hernandez and Dr. Alen Akhverdyan. Concession stands remained open throughout the game, and the cheer team continued to offer shoutouts for a dollar. Red shirts and hoodies were available for sale, because the theme of the night was "Code Red". 
The first quarter of the game was a close one. Our boys scored their first touchdown at the 5-yard line ten minutes into the game. Hoover scored their first touchdown towards the end, but missed the two-point conversion, leaving the score at 7 to 6. However, our boys remained persistent, scoring several more touchdown passes throughout the game.
During their halftime performance, the marching band made their last return of the season and played "Glendale Boys" and "SteamPunk".  One of the band's trumpet players, Hannah Reantaso, recalls that the halftime show "was the best one we've done", because they got to play a longer performance. She also enjoyed seeing the trombone musicians showcase their "head choppers" routine.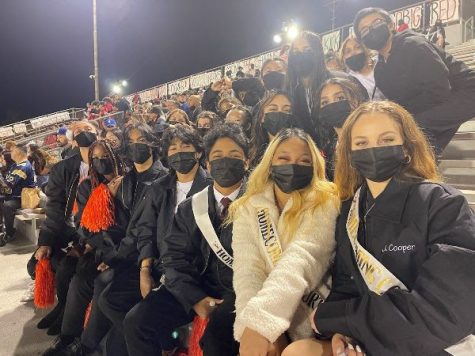 Seniors Daniel Armstrong and Jeta Cooper Johnson were also crowned as 2021 Homecoming High Royalty. Both expressed that they feel honored to have been crowned. Daniel said that the highlight of that moment for him "was hearing the rest of the marching band cheer for me" when his name was announced. Jeta also expresses that they will both "continue to exemplify the spirit and high standards" that our school holds dearly. 
All in all, Friday night's event was definitely a "Beat Hoover Day", filled with so much happiness and excitement.  For his final message of the night, GHS head football coach, Jacob Ochoa, expressed that he was "so proud of what these young men have accomplished" and that the team couldn't have done it without the support of our Nitro students.
We are so proud of the hard work and dedication that our football team has shown this season.  The seniors on the team will definitely be missed, and we can't wait to see the many victories that our football team will have in the future.