Our Beloved Mrs. Simonyan Is Back at GHS
Former ELD and English teacher returns to our school as an Assistant Principal
Mrs. Hasmik Simonyan was born in the capital city of Yerevan in Armenia. She spent her childhood and part of her adulthood living there. 
Mrs. Simonyan was fifteen and a half years old when she graduated from high school and was accepted at Yerevan State University of Linguistics. She finished her bachelor's degree in English, Russian and Russian Literature, and she earned a minor in Education. 
Later, Mrs. Simonyan graduated from the American University of Armenia, where she got her Master's degree in Political Science and International Affairs and defended her thesis on Comparative Politics. 
Mrs. Simonyan started her career as an elementary school teacher. Later, she became an elementary curriculum specialist, and when she was in her 30's, she and her family moved to the United States. 
Despite the fact that this new, unknown life was hard and stressful, Mrs. Simonyan did not give up and did her best to continue her career as an educator. Luckily, seven months after her relocation, she was hired by GUSD to teach English Language Development at Glendale High School. 
She eventually continued her education and received another Master's degree in Educational Leadership and a Tier I Administrative Credential, so that she could be a school administrator. 
Mrs. Simonyan first started her career as a teacher when she was nineteen and fell in love with her profession. The thing she liked most about teaching was her students. She loved interacting with them, learning from them, and helping them understand the content. 
Mrs. Simonyan has always enjoyed it when students see the connection between what they are learning and their own lives. She is adamant that knowledge and education are the basis for all things that can be accomplished in life. Educators provide the power of education for their students, and as a result, they receive the possibility of a better future. 
After being a teacher at GHS for eight years, Mrs. Simonyan was promoted to be a teacher's specialist at Woodrow Wilson Middle School. She remained at Wilson for four years and was able to learn a lot about leadership, school organization, educational laws, and finances. Finally, in November of 2021, Mrs. Simonyan returned to GHS as an assistant principal. 
Our school is very close to Mrs. Simonyan's heart. Since she started her career at GHS, she could not imagine being an administrator anywhere else. The transition was a smooth one, since she already knew the campus and the majority of the Glendale staff. 
Mrs. Simonyan's favorite part of working with students is seeing their growth. She also enjoys the daily interactions she has with kids and helping them navigate through their high school years. 
A difficult aspect of Mrs. Simonyan's job is that every day is different. A large variety of things can happen each day and change the course of her plans, so she never knows what to expect when she comes to work in the morning. But she loves seeing our students and teachers each day, saying hello, and having conversations.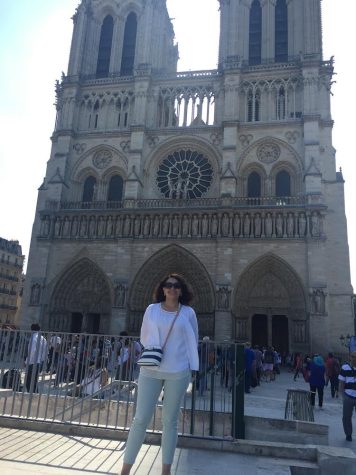 Mrs. Simonyan really hopes that the pandemic will be over soon. She wants to see students' faces again, because she misses their smiles. 
Mrs. Simonyan would like to add more music to our school, because it makes students happier. She hopes that we have different activities at snack and lunch for students to participate in and have fun. Mrs. Simonyan would also like to see our language learner population participate more and take advantage of the many opportunities that GHS has to offer. 
Mrs. Simonyan's advice to GHS students is for them to be responsible for their actions. She wants our students to know that every single step they take in high school will affect their future. She wants students to be kind and reflective, and to do the things that make them happy. "If you love what you do, it will transform your whole life," she said. She also wants young people to "never be afraid to take the steps to achieve your dreams." 
Mrs. Simonyan feels very positive about the future of GHS, because she knows that we will get through this hard time together as a community. We have the best staff and teachers in the District, who are all dedicated and helpful. They coach and mentor, listen and advise.  
Mrs. Simonyan is so happy to be back at Glendale High School, so be sure to say hello to her when you see her on campus!