Hayk Garagolyan Wants Everyone to Feel Welcome
Armenian Club president hopes to celebrate his culture at GHS.
Armenian Club president, Hayk Garagolyan, is a senior in Glendale High School and he has been attending GHS since his freshman year. He's also involved in the GHS music program, the Economics Club, and the Armenian Youth Education Aid. 
Some of Hayk's favorite hobbies are hiking, biking, playing soccer and reading. An interesting fact about Hayk is that he has been, and is still, volunteering with the Learning Mission nonprofit and the AYEA. In the future, he wishes to see himself at a 4-year university and eventually repatriate back to Armenia.
The Armenian Club sets up events commemorating the Armenian Genocide and the celebration of numerous cultural holidays. The club also seeks to educate the community and its members on Armenian history and culture, while also raising funds for humanitarian and educational causes in Armenia. Members help set up the fundraisers, carry out work on their various projects, and benefit from their involvement in the club. 
There are currently about 30 members of the Armenian Club, and they meet every other Thursday in Ms. Hayrikyan's Room 2330. He contends that they have several club members this year who are not of Armenian descent. "All are welcome to join," Hayk added.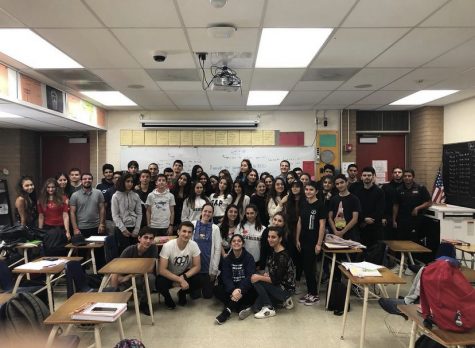 Hayk's favorite part about being the president of the Armenian Club is that he will take his part in impacting his community in many positive ways. Although managing this club has been relatively easy for Hayk, he was not able to hold many fundraisers last year due to COVID-19. However, he overcame his obstacle and decided to organize a virtual fundraiser, which was a success. 
Many of the students who are involved in the Armenian Club are also involved in other activities, such as drill, marching band, and sports. For the future of the club, Hayk wants more events and more community service opportunities for his members, and he hopes to provide more education for the GHS community as a whole. 
Please join the Armenian Club if you'd like to learn more about an ancient culture, all while helping people across the world to have access to the same opportunities that you enjoy. And be sure to follow them on Instagram: @ghs_armenianclub.