The Truth about Domestic Violence
The evidence of domestic violence is not always physical, and no one should feel unsafe at home!
"It is not the bruises on the body that hurt. It is the wounds of the heart and the scars on the mind." Aisha Mirza, author and abuse counselor
Domestic violence is not only the abuse we see or talk about, because it comes in different forms. You can experience domestic violence, not only physically, but also mentally, and in some cases it can also cause chronic health issues. 
According to the Department of Justice, domestic violence includes all types of harm, such as physical violence, sexual violence, psychological violence and emotional abuse. (Please use the link above to further investigate this topic.)
People don't often realize the amount of pressure they might get from someone they live with, or see on a regular basis, until it turns to anger. It may take a lot of time for an individual to understand this, because a lot of people may think that violent or abusive behavior is just normal and something they experience every day. 
However, I am here to tell you that domestic violence is not normal, and you should not have to accept or live with it. It is never acceptable in any situation. A lot of times, we hear stories of partners experiencing abuse in their relationships, but not a lot of us talk about the children living in these types of households. 
Any type of domestic violence can affect all genders, and it only creates more problems for kids living in an environment filled with such toxicity. If a child continuously sees domestic violence at home, they may believe that this behavior is normal for them, and those children may let others treat them poorly later on in life, because they think that it's acceptable. 
If kids regularly experience violent acts and repeated words of failure and discouragement, they may start to think that there's nothing more that they can achieve in life, which may bring about feelings of hopelessness and depression. Again, domestic violence is not only what you can see with your eyes. Its effects are often invisible and long-lasting. 
In some cases, you might not see the amount of pressure someone may be under, because of the words and the stress that they might be experiencing at home, but it is just so wrong for someone to experience this, no matter what age or the status they may be. Domestic violence may not only leave marks on your body, but also deep scars on your heart and mind, which are much harder to heal.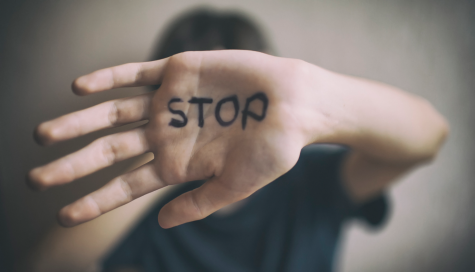 It is difficult for someone to be going through these experiences, and some young people may be too scared to call it out or talk about it. That's why there is a service that tries to help people as much as they can. 
The counselors at the Domestic Violence Hotline work to help those people in need, and they also speak over 200 different languages. The website even has a red exit button, just in case a person has to click quickly away from the page if necessary. If you are trying to get help, you should not hesitate and give them a call. 
Besides hotlines, there are also a lot of other opportunities for those people suffering abuse at home. Shelters, such as Journey Out, can help all survivors of domestic violence to find a safer place to live. 
No kid or adult deserves to live in an environment of violence, whether it be physical or emotional. Also remember that you never really know what is going on inside someone's head, and you may be wrong about the reasons for another person's behavior. That is why I hope that people will start to be less judgemental and think more about other people's feelings. 
Hopefully, this article will help to raise awareness about domestic violence, because this is a topic that people don't talk about very much. Everybody should be aware that no one has the right to make them feel insecure or unsafe at home, and no one deserves to be treated that way. 
I hope that all people feel safe and enjoy their lives without further damage. Here are a few additional quotations from survivors of domestic violence: 
"You survived the abuse. You're gonna survive the recovery." Mariska Hargitay as Olivia Benson, Law and Order: Special Victims Unit
"To be rendered powerless doesn't destroy your humanity. Your resilience is your humanity. The only people who lose their humanity are those who believe they have the right to render another human being powerless. They are the weak. To yield and not break, that is incredible strength." Hannah Gadsby, comedian and author
"At any given moment, you have the power to say this is not how the story is going to end." Christine Mason Miller, author