Lia Yaymajyan is a 15-year-old sophomore at Glendale High School. She was born in Yerevan, Armenia, but she and her family members eventually moved to live in the Russian city of Nevinnomyssk. 
Lia attended music school in Europe. She began playing the piano, and joined the chorus, while always dancing the whole time. She once entered a singing competition, and she won first place. However, she never continued her vocal career, but she does still sing as a side hobby.
Why did you join the GHS Dance/Drill team?
Before I came to the United States, I was dancing in Armenia and I was not sure if I wanted to continue here. But when I came to freshman orientation, I saw them performing and I understood that I had to join the team. I immediately reached out to [Drill/Dance advisor Kelly] Palmer that I wanted to join the team. 
I watched for a week how they practiced for different shows and performances, and I quickly realized that I wanted to be a part of all that. I have been dancing since I was four, and this was a great way and opportunity to continue my loving dance career. 
Do you have any other goals besides dance?
I am taking college classes currently, and I am planning on going to medical school right after graduating. I want to go to The David Geffen School of Medicine, [which is the] UCLA medical school. 
Currently, I am taking classes in college, such as Speech, Chemistry, and Dance History. Even after I graduate, I am still planning on continuing my goals in dancing, because it is very close to my heart and it is a way [for me to] express myself.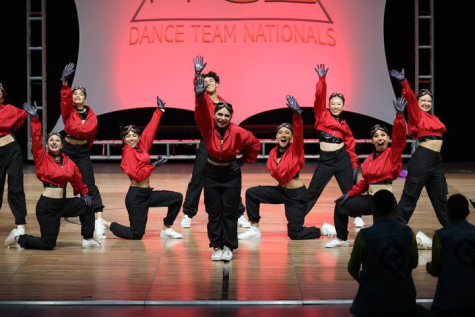 What are some difficulties that you have faced while on the Dance/Drill team?
I had a problem with being confident, because my English was not the best at that time, since I first came to America. I wasn't really talking to anyone, and I barely had any friends for my freshman year.
But ever since I came to my sophomore year, my English got better, and I started being more comfortable with talking to people and gained a big boost of confidence and a lot of friends and teammates. 
I am not a fast learner. Therefore, I need time to perfect my dances and to make them to the level where I do not need to worry that something can go wrong.
How would you describe a typical competition day for you?
I have to wake up around 6:00 AM. Then we come to school to take the bus to the competition place. When we arrive, we start to practice for the dances which we are performing, and a lot of the time the dances are right after each other. When there is the time between dances, my friends and I like to walk around, try to meet people from other teams, and generally make new friends before the actual performance. 
Personally, my favorite part of the competition day is the awards. After all the dances are completed, that is exactly where we go, too. During the wait time, I sit in a circle with my team and we take pictures, have fun, laugh and try to calm each other down. Later, when everything is done, we are packing up, heading to the bus, and going home.
How do you prepare for competitions?
We practice as a team, and after that, on Friday, we do a final run-through before the competition. We have the final talk and then we go home to get ready and pack up all of our costumes, which have to be prepared and nice for the next day.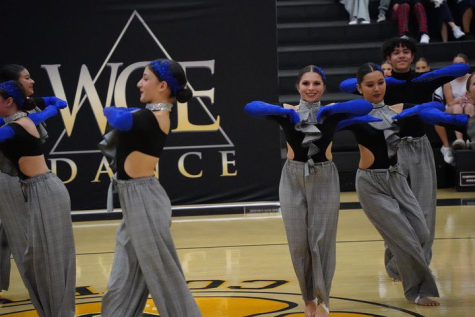 Can dance in general be draining for you sometimes?
No, because when I do something which I love, I do it with all my heart. And I do not have any regrets about taking Dance.
If you are interested in being a part of next year's Dance/Drill squad, please go see Ms. Palmer in the Upper Dance room (which can be found upstairs from the girl's locker room). You can also email her at [email protected]. 
Keep your feet moving, Nitros!