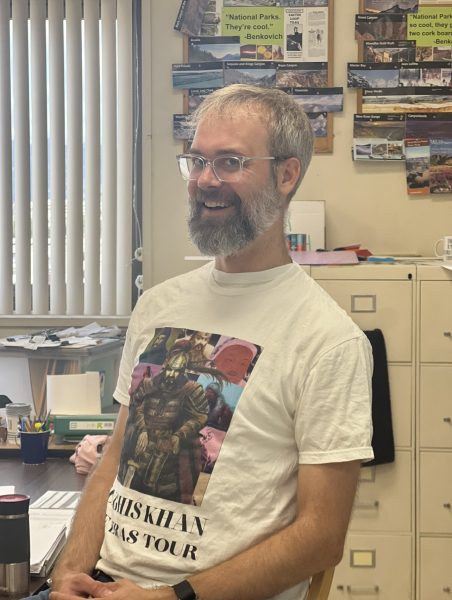 Mr. Joseph Benkovich was born on the East Coast, in the suburbs of Pittsburgh, Pennsylvania. He went to Saint Vincent College, in Latrobe, Pennsylvania, where he earned his bachelor's degree, and he then attended Villanova University for his master's degree. He eventually moved to California, for the beautiful Californian sun. In total, he has taught for thirteen years, at charter schools and also in the LA Unified School District. 
Mr. Benkovich has been at Glendale High School for a total of eight years. He is currently teaching two courses: US History and AP World History. He refers to his AP World History students as his WHAPSTARS! His hobbies include camping and playing board games with his wife and kids.
How did you first become a teacher?
I was really inspired when I got to college, and I also had a couple of high school teachers who were inspiring, and helpful. [This gave me] those moments of other people helping me, which made me decide that's what I wanted to do when I became older. In my opinion, being a teacher would be the best way to do that. 
Did you have other plans besides teaching?
No. I studied history in college. Then I got out of college, [and later] I did a couple of random jobs. Afterward, I went back to school in order to get my teaching credential. 
Why did you choose to major in history in college?
First, I was undecided on the major, and then I majored in history, because I had an awesome East Asia professor, and I just thought it was so cool. So that one class helped me to decide that I wanted to major in history and then I just kept going. I got a master's degree; I got a full tuition scholarship for the master's degree. In general, I loved to study history and learn about all the different people and cultures and how the world works.
What were some difficulties you faced while trying to reach your goals?
After my master's degree, I just kind of worked different jobs, and it was hard to go back to school while being 30. I took night classes. It was a little difficult to be out of college for like four to five years and then go back to classes.  
Can you describe a typical day for you?
A typical day for me would be trying to do some bookwork, have students read, and have some background information first. But then I like to do a lot of things where [students] "play with the knowledge." Like, let's have a trial or do a simulation, where students pretend to be historical figures and act it out. Maybe they talk to a partner and do some group work. But then I also like to do big activities that the whole class can…play around with.  
What personality traits do you feel a teacher needs to be successful?
I think that it is a balance, where you have to be serious, but not too serious. You have to accept that students are going to be loud and make jokes, and you have to understand and accept that, while not taking students as disruptive. A good personality trait is being balanced. 
How emotionally draining is your job?
I would say that the job is very emotionally draining, and it is very fun. I can't imagine myself doing anything else. After I go home and take care of my family, I am just thinking, "What am I going to do with my students tomorrow?" It is a job that goes on after the bell rings at 3:29.  It is draining, but I love it.  
How else has working at GHS influenced your life?
It has opened me up to a large diversity of cultures. I love the diverse student population we have here, and learning about where students come from, whether it is Armenia, the Philippines, Mexico, from all over the world. That has been a very cool thing for me, especially for someone not from Southern California, to just land here in Glendale. It has really been an awesome experience.
Why did you decide to also be an AP teacher and not just a regular teacher?
I think I just wanted a challenge for myself. I knew that AP classes were challenging, and I wanted to try something new. I think it is important for teachers to mix up their classes every couple of years. I was looking for a challenge, which AP World [History] is, and I have loved that decision. This is my second year as an AP teacher.
What advice do you have for our GHS students?
Just always do your best. Try to understand things from a teacher's perspective. We are here to help you but have a lot on our plate also. Be patient with your teachers.  
Where do you see yourself in the future?
In Room 4410 teaching history. I cannot imagine doing anything else. I am super lucky to be where I am.  
As a student who takes multiple AP classes, I can confidently say that Mr. Benkovich's WHAP class is one of my personal favorites. I'm always excited to see what fun and interesting project or assignment we will be working on that day. We always change up what we are doing in class, and I'm never bored. 
Mr. Benkovich always knows how to make the class enjoyable and different. I highly recommend that anyone wanting to take an AP class should consider taking this one. You will have to be focused and ready to always perform your best, which can really help your performance in class.
We are very fortunate to have Mr. Benkovich at GHS!