Ms. Palmer Is a Hard Worker and a Fighter
"She couldn't do it" did not stop our director of Dance/Drill.
Ms. Kelly Palmer started teaching at Glendale High School in 1996, and she is currently the director of our school's Dance/Drill program. She has been coaching dance for 27 years. 
She was born in Glendale and will turn 52 in February. She likes to cook and read various books and novels, including essays, autobiographies, and the classics. Gardening is also one of her hobbies. 
Ms. Palmer graduated from college at the age of 24. She went to UCLA and Pepperdine University to attain her two Master's degrees. The first is in Education with an emphasis on reading for second language learners, and the second one is in Administrative Leadership. 
She majored in Psychology and Shakespeare, and she wished to become a psychologist, but that changed when she had kids. She wanted to teach at a college but found that it was difficult for her to get a position as a full-time teacher because of her young age.  
Prior to coming to Glendale High School, Ms. Palmer taught for one year at Roosevelt Middle School. She wanted to teach English and Literature, but could not take that job without taking on the dance program as well. She was "crying, screaming, and kicking" because she did not want to teach dance at all.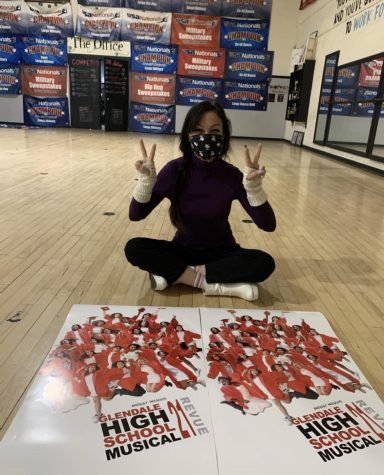 After taking on the dance team, some GHS teachers and staff members thought that Ms. Palmer would not make a great team, or recruit any male dancers. For her to create a championship-level program at GHS, she had to overcome a lot of obstacles. 
In the years since, the GHS Dance/Drill team has maintained over 90 National titles, and over 100 championships overall, in precision dance, coed dance, hip-hop dance, pom, and contemporary. They performed in the opener of the Rose Parade in 2015, the Honolulu 75th anniversary of the Pearl Harbor Parade, and the Sugar Bowl in New Orleans in 2019. The team has also made several trips to New York City to take classes and view Broadway shows. 
The Dance/Drill team also sponsors the annual GHS Variety Show, which features a number of other groups on campus, including drumline, cheer,  the football team, ASB, color guard, the drama department, and the GHS administration. The Variety Show also showcases teacher performances, selected duets, trios, bands, spoken word, and poetry. 
There are also two major Dance/Drill team concerts each year, with one in the fall and one in the spring. The first is called Across the Universe and it is in October,  and the Dance Team Review is in May.
Ms. Palmer also teaches AP English Literature to GHS seniors. For her, the best part about teaching high school kids is that she can shape their minds and convince them not to give up and to stay strong. She counsels students who need help and advice, and she never judges them for what they say. 
"If you had a lot of hard times in your life, and you made a lot of mistakes, you're the best-fit person to teach high school," Ms. Palmer said, "because your advice and your wisdom can help others." 
Thank you, Ms. Palmer, for being an amazing teacher and helping so many students. If you are interested in being a part of the GHS Dance/Drill team, please contact Ms. Palmer at [email protected], or visit her in the upper dance room above the girl's locker room.