Always A Nitro: Chef Boon
Our thirteenth in a series on GHS staff members who also attended our school
Chef Stephanie Boon is one of our new Glendale High School culinary teachers, as well as a long-time Dance/Drill coach. She was born in Los Angeles, California, but grew up in Glendale. Chef Boon is also an alumnus of GHS, and she graduated from our school in 2009.
In her spare time, Chef Boon enjoys organizing things, going on hikes, watching shows, and painting for fun. However she notes that her life mostly revolves around her job. Chef Boon's favorite meals to cook are Italian food and sushi.
Before attending GHS, Chef Boon was also a student at R.D. White Elementary School, and Wilson Middle School. At GHS, she was a member of the Dance/Drill team from her sophomore year until she graduated in 2009. The Drill team is also how she first met Ms. Kelly Palmer, who was a dance teacher at the time, and they are still friends to this day.
Something that has changed since Chef Boon's time as a student at GHS are the names of the buildings. "The 4000 building used to be known as the J-building," she said. "It's taken me some time to get used to this change, although it makes sense." 
When Chef Boon was in high school, a majority of Nitro students used to be more involved in clubs and activities than they are now. "However, it is important to take into account that we are still living in the aftermath of a pandemic," she noted. "We [past students] never experienced anything as traumatic and life-changing."
After graduating from high school, Chef Boon attended the culinary program at the Art Institutes, which unfortunately no longer exist in California. She mentioned, "My family is from England, so baking was part of my grandma's everyday routine. This really influenced my pursuit of culinary." 
After earning her undergraduate degree, Chef Boon decided to obtain a nutritional background at Santa Monica College, later transferring to Cal State LA. She is currently working on her Master's degree, through an online program at National University.
It took Chef Boon a while to "put her passion for cooking and teaching together." Before becoming a teacher, she managed the Hot Dog On A Stick in Santa Monica, had a Dietetic Internship at LA County Hospital, and worked as a registered dietician at Windsor Manor. She has also been coaching the Drill team since the year she graduated from GHS.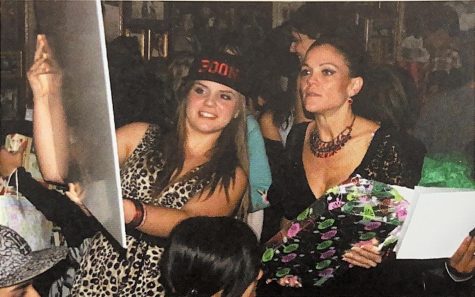 "I was meant to be teaching the entire time I was doing other things," Chef Boon said. She finally put her passions together, and began teaching a couple years ago. First, she was a substitute teacher at Fremont Elementary, and last year she worked at Toll Middle School, before finally coming to GHS this year.
A big influence on Chef Boon's return to GHS as a teacher was Ms. Palmer. "She has been really inspiring to me, seeing the way she runs the [Drill] team and how she teaches AP English." Chef Boon feels that there is "something special about returning to the school you graduated from."
Chef Boon decided to teach culinary classes, because it is what she went to school for, but also it is the thing she enjoys doing most outside of work hours. "It's a lot of fun to hear the kitchen buzzing, and everybody looking for different things and working together," she admitted. "I like being able to create that type of environment in the classroom and to make it enjoyable for my students."
This year, Chef Boon hopes to create a solid foundation for the GHS culinary program, in order to move forward and expand more. She and Chef Callahan are working on introducing the C-CAP program at GHS, which provides internships, scholarships, and cooking competition opportunities for interested students.
Moving forward, Chef. Boon hopes to remain at GHS for many years to come, in order to better equip the culinary classrooms and to get students more involved in the program.
Chef Boon's best advice for everyone is to "pay attention to where your genuine passions lay." She said, "It's okay to have many interests, and if they do not all come together at first, they will eventually. No experiences are wasted; it is important to take every opportunity that is available to you."
If you are interested in signing up for the GHS culinary program, please talk to your counselor. Let's make some good food, Nitros!