Mrs. Shahinyan Wants to Break the Language Barrier
Meet our new ELD teacher at Glendale High School!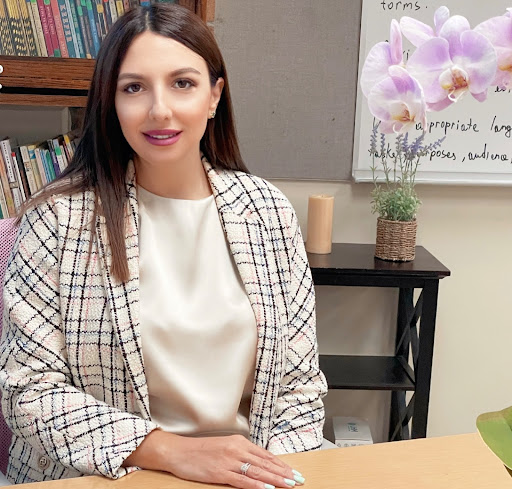 During this school year, just like every other, Glendale High School is welcoming new students and teachers. This year, one of the teachers who has joined us is Mrs. Anna Shahinyan. She is the new ELD teacher at GHS, and she is very excited to teach high school for the first time in her career. She absolutely loves being here and is so glad to officially be a Nitro!
Mrs. Shahinyan's family moved to the United States five years ago, and she has been teaching in the Glendale Unified School District for four years. She previously worked at Balboa Elementary School as an ELD Intervention teacher, where she had a great experience. 
Mrs. Shahinyan received her Master's in the English Language, the Russian Language, and Russian Literature from the Yerevan State Brusov
University of Languages, which is located in the city of Yerevan, Armenia. 
Mrs. Shahinyan also attended the American University of Armenia, where she earned a second degree in Teaching English as a Foreign Language. Here in California, she completed the English Learner Authorization Program at UCLA. 
Mrs. Shahinyan is currently a mother of two, and she is eagerly awaiting the arrival of her third child, as she is currently pregnant. She is going to have a baby boy, and she and her family members are feeling blessed and happy about that fact. 
In her spare time, Mrs. Shahinyan enjoys cooking, baking, traveling, and spending time with her family. One of her favorite dishes includes julienne foods, lasagna, and sushi, especially the varieties made with raw seafood. 
Mrs. Shahinyan adores working at GHS. "I love my new work environment and also the teachers that I work with," she said. "They are very helpful and always have my back in any needed situation." 
As a former English learner, and the mother of a previous English learner, Mrs. Shahinyan can say that she truly feels for her students, and she is very eager to take this opportunity to support them and make our school a better place for them. She hopes that this school year will be a fun, safe, and pleasant year for all of us. 
Make sure to say hello to Mrs. Shahinyan when you see her on campus! Go Nitros!