Daniel Villela Always Goes for that Home Run!
Varsity co-captain has finished his baseball journey at GHS
Daniel Villela is a senior at Glendale High School and has been a part of the GHS baseball team for four years. He was born and raised in Glendale, and he has been playing baseball since he was four years old. 
Daniel also loves to play video games with his friends and also go to Raising Cane's in his free time. He loves to play baseball and hopes to continue with his passion for the game in the future. 
What goes on during your team practices?
Usually during a regular day of practice, we first start to warm up. After that, we take defensive reps for one half of the practice. Then we start hitting [for] the other half of practice, while we also move station-to-station. 
Do you plan to continue baseball as a career?
Yes, I do plan on continuing baseball as a career. I plan on continuing to play at Southern California Leadership University. I love playing the sport and I know that if I put time and effort into it, I could do a really phenomenal job at accomplishing my baseball career plan.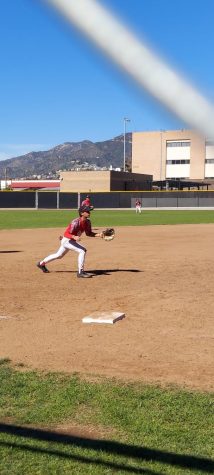 What are your most memorable days playing for the GHS baseball team?
During my baseball career at GHS, I have had so many amazing memories. I really love my team, and getting to spend time with them, while we practice or have games, is really nice. I made some of my true friends on the team. 
My most favorite memory would have to be beating Crescenta Valley High School this year. We haven't won against them for a long time, and finally we [did] in my last year of playing baseball in high school. 
What are some struggles you and your team have faced this year?
Some adversity my team and I have faced [included] not getting [the] results [that we wanted] towards the end of the year. I think it was a struggle for all of us. We [did] face some challenges on the field, but as a team we have pretty much gone through all of it, even on our bad days.
What are you going to miss most about playing for the GHS baseball team?
What I'll miss most are my friends. I have always seen my friends on the team as my brothers, and since we have to go our separate ways, I'm going to miss them the most. I practically grew up with my players, so it's going to hurt not playing with them any longer.
Daniel's advice for anyone who wants to join the baseball team is to "always be confident and believe in yourself because anyone can join baseball." Daniel would love for everyone to join the team, because he says it's a lot of fun and will be such a great experience. 
If you are interested in joining next year's squad, please contact our current coach, Mr. Marcus Whithorne, at [email protected] for more information!