Andrew Dimas Shoots to Win!
Co-captain's passion for lacrosse helps carry his team to victory!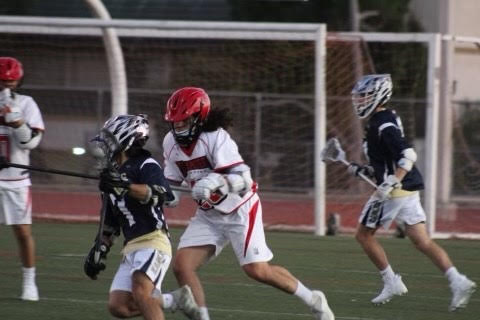 Andrew Dimas is a 17-year-old senior at Glendale High School. He was born in Gilroy, California, and he moved to Glendale in 2018. He has been playing lacrosse at our school for three years. Some of Andrew's favorite hobbies are cooking, golfing, and working out. "It's really fun being able to learn and play lacrosse," he said, "and so far I just love being part of the team."
What goes on during your lacrosse practices?
Our practice schedule [is usually] five to two hours long. We usually practice three times [per week] at six in the morning and [at] two after school. We would first begin our practice with stretching, and then after [that], we would run one lap around the track. 
Afterwards, we would proceed to conditioning. The remainder of practice would be focused on stick work and development on our offense and defense. 
What is your favorite part of being in the GHS lacrosse team?
My favorite part of being in the team is the atmosphere we have created as a team. I get to play lacrosse every day with my friends, and I enjoy playing it, especially since our team is respectful and kind. I love being around people that are not judgmental. 
I really get to be myself around my teammates, and that is what really makes us connect well. We practice a lot and being able to spend hours with each other just brings us closer together. And I really love spending time with my friends, playing a sport I really enjoy.
Do you see lacrosse as a future career?
Personally, I do not see [myself] playing lacrosse in my future career. I have really been heading towards the medical field, and I really want to focus on that. 
Don't get me wrong; lacrosse is a really fun sport to play, especially in high school. But I think, for me, lacrosse will always just be part of a really fun high school memory that I can always remember and look back to. I'll always try to play lacrosse in my free time, too, whenever I get time. But no, I do not see it as a future career. 
What are some things you would like to improve on as a lacrosse player?
Some things I would like to work on is my overall physical fitness. I always want to improve that to be a better player, but also [I want to] just do it to be a really healthy player. I also want to work on my footwork, but other than that, I have just been practicing and practicing to make myself better. 
Also as a teammate for the GHS lacrosse team, I always try to improve on communication. Communication is a really important part of being part of the team, and I think with that, we can really win and score that goal.
Andrew loves playing lacrosse, and he would love for you guys to try out for the lacrosse team, or even just try the sport. "Lacrosse is a very physical sport that takes time to progress in, but don't let that scare you," he said. "The team is very welcoming and is only looking for you to improve. And the longer [a person] plays, the less the physicality bothers them, and [they] even begin to enjoy that aspect." 
Come out and support our GHS lacrosse team, Nitros! If you have any questions, or if you are interested in lacrosse, please contact Coach Campbell at [email protected].