Natalie Chaknoyan's Club Gets a Lift!
Our brand new Weightlifting Club is the best way to stay in shape this school year
Natalie Chaknoyan is a 15-year-old sophomore at Glendale High School, and she loves to be involved. Besides the Weightlifting Club, which she founded in the fall with her friend Carmen Avedian, she is a part of the GHS track team and is a member of the Armenian Youth Education Aid Club and the Children's Hospital Los Angeles Club. 
Natalie was born in Yerevan, Armenia and moved to Glendale, California when she was only 4 years old. Some of activities that Natalie loves to do in her free time include hanging out with her friends, going to the gym, and reading. 
What made you want to start the Weightlifting Club at our school?
I personally enjoy weightlifting and being able to start my own weightlifting club here at school sounded really fun and enjoyable to do. I also love weightlifting with my friends. I wanted to start the club so that other people here in school can join and know how fun weightlifting can be.
What goes on during club meetings?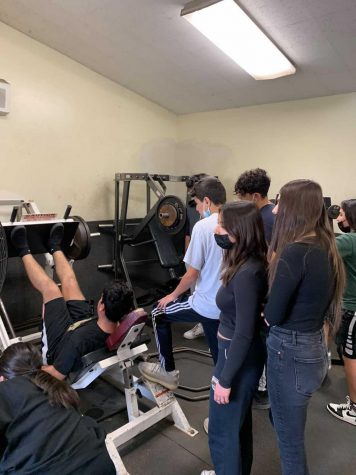 When all of our club members gather, we first introduce ourselves, and then we begin to decide which muscle group we are going to work on. Once we have decided, then that is when we begin working out. 
Our members have free rein to do any exercise they want, and we also teach them techniques and forms they haven't tried before. Our members are free to work out by themselves, or with their friends, as long as they respect and use the equipment we provide for them properly.
How does this club benefit students here at Glendale High School?
Our club benefits the students here, because it helps them get stronger, and it can even be a distraction. I feel like, when working out, I just focus on that, and it really does help with good and positive mental health. It also promotes a healthier lifestyle and it brings people together. You don't only get to enjoy working out, but you get to enjoy doing it with your friends. 
Why should students join your club?  
Students here at school should join our club, because it really is a fun experience, and trying new things is fun. You don't have to be an expert or even have experience, and I guarantee [that] you would enjoy working out. 
They should also join because it will help them feel good about themselves, knowing they are able to feel good about their bodies. Our club will always promote body positivity and positive mental health. 
Natalie would love for all Nitros to join the Weightlifting Club. They meet every Thursday during lunch and you can also bring your friends. You can also contact their club advisor, Mr. Whithorne, at [email protected], for more information.
Remember, Nitros: don't be afraid to try new things!