Are you in need of some fun times during the weekend? Then why not head on down to the Renaissance Pleasure Faire? 
The Renaissance Pleasure Faire is where people can reenact an era in time, that era being the period in Europe during the 16th century. The purpose of the Faire is to make a fun and interactive historical event that both children and adults can enjoy. As I am a part of this Faire, I think it falls upon me to say that you should definitely check it out!
The Renaissance Faire started in 1963 at Agoura near Malibu, and since then it made its way to the Glen Helen Pavilion in San Bernardino. The Faire remained there for a few years until it made its way back to Los Angeles County, and it can currently be found at the Santa Fe Dam Recreational Area in Irwindale. 
According to their website, the Renaissance Faire's main purpose is to celebrate the enlightenment movement, which was a "time when individuals celebrated the awakening of a new idea when the light was let into darkness." The Faire also "celebrates the spirit of this period of history."
The Renaissance Faire is a vibrant and exciting event, and it features clever and time-accurate activities, which all people can enjoy. I am currently working there as a swing-pusher, meaning that I quite literally push a swing that people get on and enjoy with their family and friends. The swing is one of the more popular rides there, as it allows people to interact with the workers at the fair.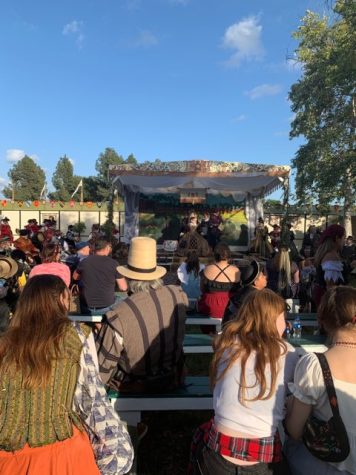 This is my first year working with the Renaissance Faire, and it's been a very fun experience. Most of the people there are very nice and get along well with each other. I think the Ren Faire is one of the best historical recreations, because it includes so many people to participate and is accessible to all audiences. It allows its patrons to dress along with the theme and get into the spirit by adopting a persona from the Renaissance.
As for the amenities, there is a wide selection of food, consisting of delicious, handmade selections to enjoy throughout the Faire. There are also many small shops for a better means to outfit yourself or to simply collect items that you may enjoy, such as swords or replica flintlock weapons. But if you'd prefer a more traditional Faire experience, they also offer merchandise, hand-made plushies, jewelry, and a large selection of clothing to buy.
On top of having rides, the Faire also offers many shows and sideshows, many of which are quite entertaining. If you're tired of walking around and want to relax, then feel free to enjoy them. The types of shows vary based on the sections they are in.
One show is the Supernova show, in which a strong woman breaks things and does some stunts. Another popular one is the Fire, Whips, and Sword show by Aaron Bonk. There are also many smaller shows that are performed all around the Faire every hour.
The Renaissance Pleasure Faire ends on May 22nd, so bring your family and friends over to enjoy this vibrant event. The event is open on weekends and it runs from 10am to 7pm, so if you're feeling down and bored come on over and experience the Renaissance Pleasure Faire!