Tyler Braggins Is Happy to Argue with You
Debate Club president assures you better debating skills than Ben Shapiro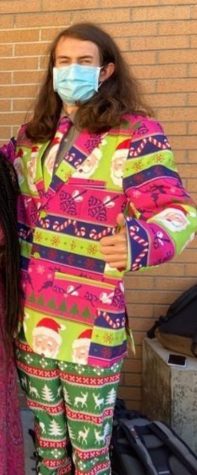 Tyler Braggins is the club president of the Debate Club and is an 11th grader at Glendale High School. Born in San Dimas, Tyler likes to spend time with his family and friends while engaging in his favorite pastime of LEGO building. Tyler has a dream to hopefully make it to Harvard University in pursuit of his goal of being an astrophysicist.
Tyler first decided to put his name in for the Debate Club presidency when he was asked by a friend in the club to apply. It then fell in his lap since no one else was interested. 
The reason that Tyler joined the club in the first place was that he believed that debating was already a subset of normal school. It is a formal process, and knowing how to formulate an argument is a good set of skills to have. It can help resolve issues respectfully and thoroughly. Tyler also joined the club because he was genuinely interested in debate and it seemed like an experience that could be enjoyable.
The purpose of Debate Club is to help its members to formulate and to express their ideas professionally. During meetings, two teams debate each other on opposing teams, which are chosen at random. They argue over a specific topic that is voted on beforehand. After the debate, the two opposing sides then have to raise their hands if their opinions have been changed.
Outside of school hours, the Debate Club plans on hopefully debating against teams at other schools, but this depends on how the members feel about it. Tyler is also planning on holding fundraisers for the club itself or contributing to the Glendale community.
Everyone should join the Debate Club because it offers students the ability to respectfully articulate their thoughts whenever they are arguing or in a conversation with others. Some members do have difficulty with coming up with points and saying what they want to say. Tyler also faces his share of challenges, such as trying to be a better leader. 
Tyler believes that the Debate Club will have a strong future because he hopes to be able to inspire more people through his debating skills and his enthusiasm for what's to come. As Tyler will be a senior next year, and after his days at GHS are over, he'll be striving for his big goal of going to Harvard. 
You can sign up for the Debate Club by contacting Mr. O'Malley at [email protected], or you can attend their meetings on Fridays in Room 4311.