Nitro Teachers Honored on Veterans Day
Make sure you thank your local veteran for their service, including your own GHS teachers
Originally called Armistice Day, Veterans Day is a federal holiday created in 1918, to honor the armistice, or truce, that the Allies secured with Germany after World War I. The name was later changed to Veterans Day when an army veteran named Raymond Weeks had the idea to expand the holiday to celebrate all veterans.
For this year's Veterans Day, we would like to acknowledge and appreciate the veterans on the Glendale High School campus, especially Mr. Hector Martinez and Ms. Kimberley Sinclair.
Mr. Martinez and Ms. Sinclair are both veterans here at GHS, and they both have served more than a year in the Armed Forces. During their time in the military, both of these teachers were also deployed to countries in Europe. Mr. Martinez served time in Kosovo for training purposes, and Ms. Sinclair was also trained in Germany. 
Both Mr. Martinez and Ms. Sinclair believe that their time serving in the Armed Forces was a positive experience overall. Ms. Sinclair remarked, "I would have stayed longer, but I didn't want to go to Afghanistan." This is an understandable concern, because of the terrorist attacks happening during the time of her service. Nonetheless, the pay was a great incentive they had for staying in the military, especially if you have a specialized job within the Army. 
Ms. Sinclair and Mr. Martinez both enlisted in the military for various reasons. Ms. Sinclair said that she liked the sound of being paid for learning and traveling. On the other hand, Mr. Martinez signed up because he didn't really like the idea of going to college, and many of his friends were also enlisting at the time. The option presented itself when some of his buddies were going as well. His time in the military was also a great time for Mr. Martinez to work on himself and to try and find out where he wanted to go next in his life.
While living in different countries, both Mr. Martinez and Ms. Sinclair spent most of their time training and studying. The US Army requires you to take classes, depending on your military assignment. However, if you are in the infantry, or anything of that sort, you mainly learn procedures and how to properly handle a firearm.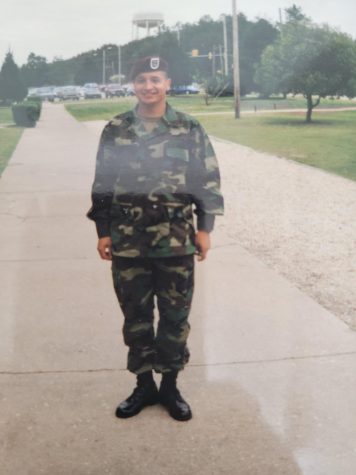 Of course, military life isn't for everyone, but for those Nitros who do intend to enlist following graduation, both Ms. Sinclair and Mr. Martinez have some advice that can be of use. When you're in the military you can hold down different kinds of jobs. Known as a military occupational specialty, or MOS, these positions can be easily transitional from the military to the civilian sector. This can help veterans to get back into everyday life, which can be harder if you've spent many years as a soldier. 
Mr. Martinez says that you should think carefully before deciding to enlist, because it is a very big decision that requires you to relinquish many of your freedoms, with the rules and regulations that the military requires. 
On another note, Ms. Sinclair is also an advocate for the Wreaths Across America program, which is a non-profit organization that helps to honor those who have sacrificed their lives in service of their country. To learn more about this program, and to how to support their cause, please click HERE! 
Please remember to thank and respect those who have decided to enlist in the Armed Forces, and make sure always to honor the veterans in your life, both on Veterans Day and beyond! And think about what you can do personally to serve your country, both now and in the many years to come!