Save the Seas Club Is Hard at Work
The marine life conservation club finally had a chance to follow through on its mission, and you can help too!
Last Saturday April 9, our GHS Save the Seas Club went out to the Santa Monica Pier for a beach clean-up project. According to the environmental group, Heal the Bay, Santa Monica is the most polluted beach in LA County, and it is the seventh most polluted beach in the State of California. This is mostly due to the popularity of the pier, as millions of people visit it each year and litter the area. 
Not only does plastic kill many coastal animals, but it also contributes immensely to ocean pollution. Plastic can be easily ingested by both coastal and marine animals, and this usually leads to their deaths. Apart from that, the World Economic Forum states that plastic also creates a layer of insulation, which raises the temperature of beaches, destroying coastal wildlife. At our current rate of pollution, plastic is expected to outweigh all the fish in the sea by the year 2050, according to the Center of Biological Diversity.
Another problem with plastic is that it is non-biodegradable, meaning it does not decompose completely. It breaks down into smaller pieces, called microplastics, but they never truly break down completely to be reabsorbed safely by the environment. 
Our Save the Seas beach clean-up team found a pile of microplastics that were not even noticeable among the sand at first glance. However, these particles still posed a threat of poisoning coastal wildlife. The plastic that pollutes our beaches is not going anywhere unless we do something about it.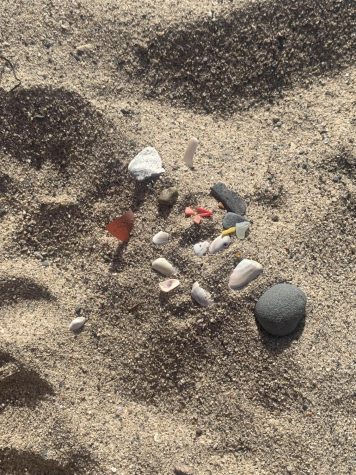 The cause for all of this, of course, is humans. Plastic surrounds us every single day of our lives. It makes many things easier, but in the end, it is killing us. 
Although all of this sounds very heartbreaking, you can help fix this problem! The biggest way that we can keep our beaches clean is by preventing pollution in the first place. Throwing away your trash into designated trash bins, reducing your overall use of plastics, and recycling are all ways that you can prevent beach pollution on your part. Besides that, you can also make a difference by educating people on the harmfulness of pollution and what they can do to decrease it.
Save the Seas Club is also planning to have three additional beach clean-ups during the next school year, and they hope to do another project in cooperation with the Friends of the Los Angeles River organization. They will also hold recycling drives at the start of each year to increase awareness of plastic pollution. Join the club next school year and be part of this effort to save our planet's beaches! Every person that helps makes a difference.
Beach clean-ups are very fun and collaborative, and volunteers are encouraged to bring their friends and family to help. Furthermore, you can receive community service hours for volunteering at such events. 
Join Save the Seas Club and help us save the turtles!