Riley Millward is Ready to Save the Seas
The GHS Save the Seas Club works to clean up the community and local beaches
Born and raised in Glendale, Riley Millward is a junior at Glendale High School. Not only are they president of Save the Seas Club, they are also vice president of Pride Club, WE Club, and Hunger Heroes Club. Additionally, they are on the GHS soccer team and in the GHS concert band. As Riley says, "I am the school." 
Outside of school Riley loves music and plays the bass and drums in a band called Threatening Livingston. The band came up with their name when Riley decided to perform the song "I Want It That Way" by the Backstreet Boys, which is the song that Mr. Livingston performed with Mr. Kirkwood at the GHS Variety Show in 2019. Riley proclaimed, "I am threatening Mr. Livingston's signature move!"
The GHS Save the Seas Club was founded in 2019 by a GHS student named Melanie Yervadian. Riley joined the club because of their passion for the study of marine biology, and they took over the club once Melanie graduated. They saw the club as a great opportunity to organize volunteer work that could benefit the ocean, while also educating its members about marine wildlife.
The purpose of Save the Seas Club, according to Riley, is "raising money for the ocean, engaging in activities that benefit it, and teaching its members to be more eco-friendly in general."
In order to reach their goal, Save the Seas Club will be volunteering with organizations like Heal the Bay, Friends of the LA River, and the California Wildlife Center. Riley also hopes that the club will be able to organize a beach clean-up sometime this year. 
Their first project will be local recycling, which involves placing recycling bins in more everyday locations, as well as collecting recyclable materials, which they will take to the Allan Company recycling center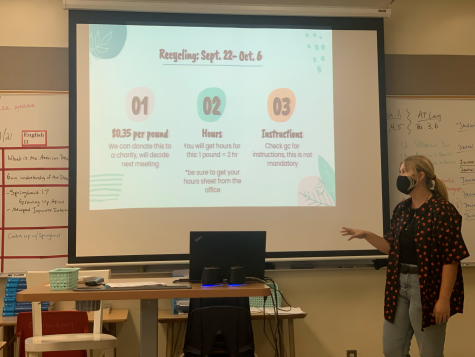 Save the Seas Club will be offering both community-based and general community service hours, the two categories of hours required for admission into the National Honor Society. Riley says that they want to maximize the amount of hours their club members get, since there are only a few community-service-based clubs on campus. They want everyone to be able to earn hours while doing something enjoyable and helpful for the community.
During Save the Seas Club meetings, Riley discusses any news within the club, and they also do a check-in on any current projects. The club members then discuss possible future projects or fundraisers. 
Another fun activity that Riley does during club meetings is introduce a new "Animal of the Week". This includes sharing interesting facts about marine animals, their features, and place in the oceanic ecosystem.
Overall, Riley is very excited to be president of this club, because they get to talk about their greatest passion, marine biology, with their club members, as well as organize activities to benefit the oceanic ecosystem and its inhabitants.
Riley thinks the biggest challenge this year will be to overcome COVID-19 guidelines when it comes to transportation, which they will need to provide when they organize out-of-school activities.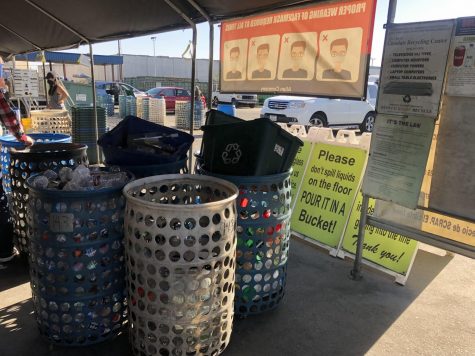 Riley hopes to be able to organize a beach clean-up later this year. They also hope to make the club a fun and interactive environment, and hopefully its members will be encouraged to bring their friends to meetings as well.
After high school, Riley wants to go to UC San Diego to study Biological Sciences through the SCRIPPS program, and afterwards they hope to earn their graduate degree in Marine Biology. They want to work in labs, examining rare aquatic organisms and their properties since so much of the ocean is unexplored. 
Riley aspires to find uses for marine life's unique adaptations that can benefit human beings. Their passion for the topic is the driving force of the club, which makes it a very enthusiastic and interesting environment to be in.
If you are interested in joining Save the Seas Club, meetings are every Wednesday at lunch in Mrs. Keefer's Room 2232. You can also contact Mrs. Keefer at [email protected], or follow them on Instagram!