Spider-Man: No Way Home
A cinematic masterpiece you'll never forget, unless you're MJ or Ned!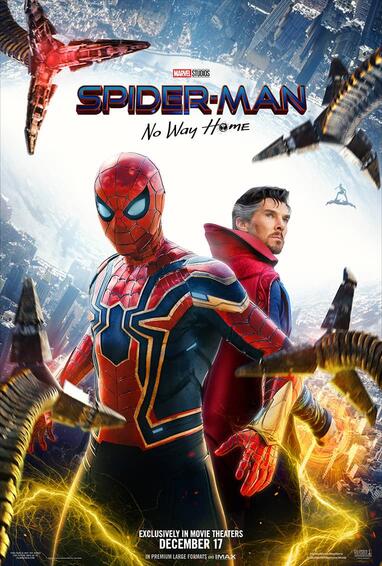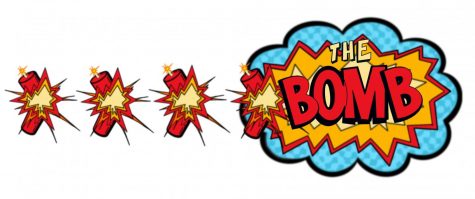 WARNING: SPOILERS AHEAD!
The new hit movie, Spider-Man: No Way Home, brought us all back to the year 2002. Then to 2004. Then to 2007. Then to 2012. And to 2014… 
The new film, starring Tom Holland and Zendaya, was directed by Jon Watts. With a budget of 200 million dollars, the crew tried their very best to make all of their fans' dreams come true. Overall, the movie is spectacular. The screenplay, the acting, and the added humor are what bring these movies together. However, a few flaws do stand out tremendously. 
A boy who was once considered New York's Friendly Neighborhood Spider-Man gets that title revoked as Mysterio announces his identity before his death, claiming Peter Parker as his murderer. With rage flowing through the streets, Peter and MJ head back home, where Aunt May and Happy figure out a plan to get Peter to safety. 
The police bang on Peter's door, wanting to arrest him for the death of Mysterio. With help from their attorney, Matt Murdock (aka Daredevil), Peter has the charges against him dropped. Murdock's appearance in the movie sets the entire film off to a good start. Since Daredevil was canceled on Netflix, I was hoping he would extend his stay throughout the movie. Unfortunately, we only get a small scene with him, but it is exciting to see him on screen again.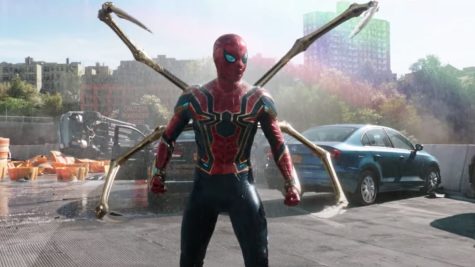 As Peter struggles to regain the trust of New York, MJ and Ned face future threats to their education and their once-average life. As a way of an apology, Peter seeks the help of Doctor Strange to make everyone forget his identity. This all comes to a crash, as Peter changes the spell too many times. 
With no luck on the spell, Peter then seeks out the M.I.T. administrator who denied his and his friends' applications. Upon doing so, he is introduced to Doctor Otto Octavious and the Green Goblin, who both mistake him for Tobey Maguire's original version of the movie webslinger. 
Seeing Doc Ock and the Green Goblin in the film isn't much of a surprise, because they both appear in the trailer. Nonetheless, it is still exciting for them to both be on screen in front of all of our eyes. 
Peter eventually also encounters Electro, Sandman, and Lizard. Peter has a chance to send them all back to their correct universes, but he ultimately chooses to help them go back to their original forms and become normal people again. 
Here is one of the flaws I was talking about. As Peter is trying to help the villains, the Goblin decides that he wants to go a different route and stay as powerful as he is. Sandman also randomly joins in on that plan after he had previously stated that he was happy to be brought back to his original human form. This way he can finally see his daughter. 
What changes his mind so suddenly? In Spider-Man and Spider-Man 3 with Tobey Maguire, Sandman's one motivation is to be with his daughter again. So his random choice to remain a villain just doesn't add up. 
Not too long after the villains go rogue, Peter and the Green Goblin begin a major 1v1 battle. The aftermath of this is unfortunately the death of Aunt May. 
I expected this result, and I'm sure a fewis spoken by Uncle Ben in previous films: "With great power comes great responsibility." It is still heartbreaking to see her death.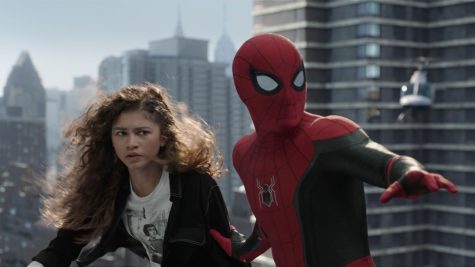 With no hope of saving these villains, Peter gives up. Ned and MJ, however, have different plans. While struggling to find where Peter is, Ned uses Doctor Strange's sling ring and states that he wants to see Peter Parker. This opens a portal to Andrew Garfield's version of Spider-Man. With everyone's heart racing fast and eyes filled with tears, as the nostalgic feelings set in, the audience is also greeted by the original Spider-Man, Tobey Maguire. This is the moment that we had all been waiting for. 
After all three Spider-Mans (Spider-Men?) finally come together, they find a way to heal all the villains. Seeing all three of them joking around on screen together brings joy to everyone. 
But there is one more scene that really has people in tears. As the three versions of Peter Parker are fighting the villains, MJ happens to fall off the Statue of Liberty, and Andrew Garfield, not having the opportunity to save Gwen Stacy in his universe, comes to her rescue. 
The final villain left at the end is the Green Goblin, and Peter is ready to kill him as revenge for the death of his aunt. Ironically, the Goblin is very close to dying in the same way that he was killed in the original movie, by being crushed by his own glider. With some wise words from his two partners, Peter stops himself from killing him. 
With all the villains put down to rest, Doctor Strange tries unsuccessfully to fix his original spell and to restore everyone's faith in Spider-Man. This however leads MJ, Ned, and everyone else who knew Peter's identity, to completely forget him. In a way, this resembles the way that Iron Man sacrificed his life for everyone else in Avengers: Endgame. Peter has clearly learned a lot from Tony Stark. 
Overall, this movie is a cinematic masterpiece. Every performance in this film is memorable, and there is never a dull moment. Despite the slight flaws, and a few writing errors, it is a good way to end the Home Trilogy. It is the best of the Marvel Phase 4 movies as of now, and it brilliantly sets up the next Doctor Strange movie, which is coming in May.