Emma Remley Has Her Future Sewn Up
Sewing Club president hopes to put her skills to use for a good cause.
Emma Remley is a sophomore at Glendale High School and has been here since her freshman year. She is planning to start attending Pride Club meetings, which are also held at GHS. Emma is also the founder and president of our brand-new GHS Sewing Club. 
The idea for the Sewing Club first came to Emma when one day, she was showing her friends her stuffed animals that she had made by hand as a craft. Her friends constantly asked her to show them how they also could make those stuffed animals, and then she thought of the idea to start her own club. Emma felt that she could teach all of her friends how to make other crafts related to sewing. 
Emma believes that the name of her club is pretty self-explanatory. She wanted people to understand the meaning of the club as easily as possible, and she hoped that they would know exactly what the club was all about. 
Besides sewing, club members can also learn embroidery, which is a similar craft. She was originally going to call her club the Sewing and Embroidery Club, but she thought that it was a little long and not a lot of people know what embroidery is.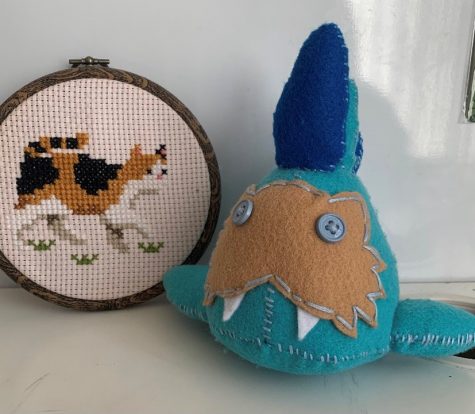 The main purpose of the Sewing Club is to teach people basic sewing and embroidery skills, and for them to be able to use these skills in their lives. In the future, when all of the members get better at needlework, Emma hopes to start making toys and offer them to the kids who can't afford them.
As of right now, the Sewing Club has twelve members and their club meetings are held on Mondays in Ms. Postajian's room, 2231. However, if people want more time to ask questions or to practice, Emma sometimes holds an additional meeting on Fridays.
Since the club is new, all of the materials that they will be working with will be new and safe to use. During one of their latest meetings, the members decided to work on a project called "cross stitching". 
The next project Emma has planned is definitely making stuffed animals. Specifically, Emma would like to teach her members how to sew a sand seal plush from the video game The Legend of Zelda: Breath of the Wild. After that, she plans on managing other similar projects, depending on how well the club members can work together. 
Emma feels that she can teach anyone to make really cool things. "Although it seems hard, it is surprisingly easy," she said. "And once you learn it, you can use these skills to make gifts for your family or even impress them with your cool new skill!" 
If you are interested in joining the GHS Sewing Club, please follow them on Instagram at @sewingclubghs.