Monte Almasi Scores His Way through Life
Our boys soccer captain has a true passion for victory
Monte Almasi is a 17-year-old senior attending Clark Magnet High School, and he is also the captain of the Glendale High School boys varsity soccer team. Monte is Armenian and has been living in Glendale his whole life. He enjoys playing soccer, going to the gym, and sleeping.
How did you first get involved in playing soccer?
It was the one sport I had such passion and love for. Over the years, I continuously fell more and more in love with it. Over the last ten years, I kept getting better, making me want to play more, realizing the talent I have.
How and why did you become captain of the soccer team? 
My first year of being captain was my sophomore year [on the JV team]. It was through dedication and hard work [that I made the squad]. Another reason I was chosen to be captain is because of my positive energy and my strive to win. I will always push my teammates to their best potential, on and off the field.
What happens during team practices?
During our practices we grow our bond as a family. We joke around and have fun, when we have the chance. We go through tactics, conditioning, [and] drills, and we make sure we get better. We train to be number one. 
What is your favorite part about being a member of the soccer team?
My favorite part of being a member of the soccer team is hanging out with my friends. The bonds I have made with all my teammates is something I wouldn't give up ever; they are family, no doubt about it. This just makes winning together that much better.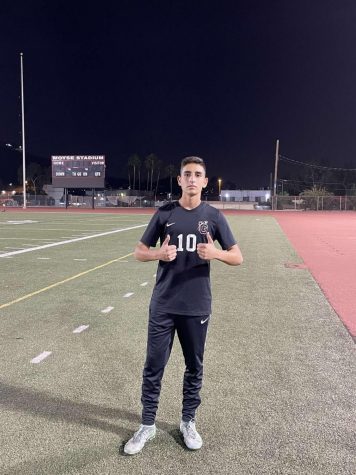 What accomplishments or honors have you earned as part of this team?
My biggest accomplishment is, by far, being named captain of this amazing program. It's everything I have worked for. Another accomplishment is being named MVP my sophomore year. Finally, my biggest honor is being a part of this program. The competitiveness, the hunger for victory, and the bonds being made, that's my biggest honor.
What hopes do you have for this season?
The future is bright with the upcoming years, under the amazing coaching staff that we have. I have high hopes for winning the league, making CIF and dominating the season. We will show who is the best. 
Monte and his teammates hope that all Nitro students will come out and support them this season at all of their home games! If you are interested in joining next year's soccer team, please contact Coach Brandon Weisman at [email protected]!