42
The story behind the best of the best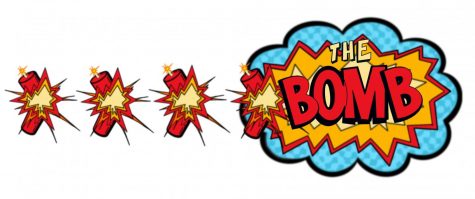 42, directed by Brian Helgeland, is a sports drama that will open your eyes to how life used to be in America in the 1940's. Released in 2013, the movie features actors such as Chadwick Boseman, Harrison Ford, Christopher Meloni, and Alan Tudyk. 
This is such an amazing movie, because of how historically accurate it is. It portrays Jackie Robinson's life in a perfect way, showing his struggles, his battles, and his everyday life.  The focus of this film is Robinson's first season with the Brooklyn Dodgers. A key theme in this movie is the significance of relationships between people and Jackie Robinson and to show how he was treated as a black man in America. This movie hopes to broaden people's knowledge of how baseball used to be played and how people of color used to be treated. 
The movie starts with the legendary coach Branch Rickey (Ford), who wants to bring the first black player into Major League Baseball. As this movie is set during the 1940's, the thought of this is very controversial, and Rickey's colleagues are shocked when this idea is first announced to them.
Jackie Robinson (Boseman) shows up to spring training after being the one black player selected to play for the Dodgers. He is known as being hot-headed, and he will always stand up for himself. On his way to spring training, Jackie and his wife experience many difficulties. 
Jackies faces many types of racism everywhere he goes. Members of the Dodgers treat him differently than the others, trying to get him to leave the team. During his first game, he's booed and called racial slurs.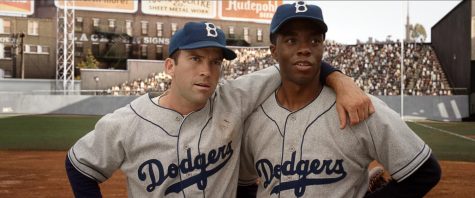 Throughout the rest of the story, baseball fans, and his own teammates, start to ease up on Jackie and see him for the wonderful player that he is. He shows how great he is at the sport, and even when he almost gives up, he takes it like a champ and shows the world that people of color can do anything that a white person can do. He makes people realize that they shouldn't count people out, due to the color of their skin. 
Boseman is also the perfect actor to play Jackie. He puts his all into this film, and it is interesting to see him in a leading role, before he played T'Challa in Black Panther. 
This was one of Boseman's breakthrough films into his incredible acting career. How he acts as Jackie is a perfect performance and I don't think anyone else could have played as this person the same way that he does. 
42 also features the legendary actor Harrison Ford, who is also known for his roles as Han Solo and Indiana Jones. Ford is spectacular in the movie, and he makes the movie even more complete than it already is. 
This movie is amazing and I would definitely recommend it for all baseball lovers and people who want to see how life used to be. However, I wouldn't recommend this movie if you struggle hearing bad language and racial slurs.
Even many years after this film has been released, the significance of it is still present. Racism is still an issue to this day, and this film helps put people in perspective how people of color are still treated on a daily basis.
Overall, 42 is a terrific tribute to the legendary player Jackie Robinson and his career with the Dodgers. You should definitely watch this movie, because it shows how one of the greats lived and played the game. 
It also makes you think about how far we have come as a society, but we are still far from where we need to be. Jackie Robinson was a pioneer of the sport and remains an inspiration to so many people. 
If you like this movie, you may also like other inspirational sports movies, including Coach Carter, Remember the Titans, and Radio.