Sarah Davtyan Serves Up Victories for GHS
Tennis phenom is one of the only junior captains of any GHS sports team
Sarah Davtyan, the Glendale High School tennis team captain, was born in Los Angeles but moved to Glendale when she was only a few months old. Currently a junior, Sarah is very involved in other school activities as well. 
Apart from being a team captain, Sarah is also in the National Honor Society, she is an officer for the Make-A-Wish Club, and she is involved in several other clubs on campus, such as Junior Class Council and Children's Hospital Los Angeles. Outside of school, Sarah enjoys spending time with her family, especially her twin sister Lizzie, as well as drawing and reading book series.
A devoted athlete, Sarah started playing tennis when she was only nine years old. She got introduced to the sport by a friend's mom and took lessons at the Fremont Park Tennis Academy for about 2 years. 
Although she took a break from the sport for some time, Sarah tried out for the tennis team during her freshman year at GHS, and she made it onto the junior varsity squad. During the initial COVID-19 lockdown, Sarah dedicated most of her time to improving her skills, by taking tennis lessons at Glendale Community College. 
"That was one of the only places I was allowed to go to," she said. "Everywhere else was so dangerous because of the spreading virus." As Sarah describes it, her quarantine life consisted of three main activities: eating, sleeping, and playing tennis.
After all the effort that she put forth during quarantine, Sarah made it onto the varsity tennis team during her sophomore year, where she played the number one doubles position, with her partner Nahnor Ghazarian. This was one of Sarah's major accomplishments, since she had advanced from being an inexperienced player on the  JV squad, to playing number one doubles for varsity in just one year.
This year, Sarah became co-captain of the tennis team, due to all the hard work she has put in and the improvement she has displayed on the court. Although not many juniors are normally selected as team captains, Sarah explained that her coach saw how dedicated she was to the sport and to the team.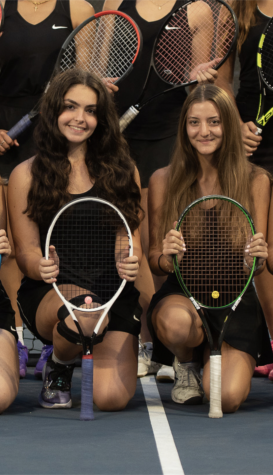 The second co-captain is a senior at Clark Magnet High School, named Ani Harutunyan. In terms of leading the team, Sarah and Ani split the responsibilities equally, such as team introductions and warm-ups. They communicate really well with each other and with the rest of the team members, and overall they have a great dynamic as co-captains.
One of the biggest challenges Sarah has faced, as team captain, is the seemingly perfect image she has to keep up for the sake of her other team members. She is expected to always be on time, to never get frustrated during practice, and to set an overall good example for the rest of the team. 
With such an important position comes a lot of pressure, but according to Sarah, the experience is rewarding in the end, since she gets to be recognized for all the hard work she puts in, and she is able to lead her team to victories.
Sarah's favorite thing about being a Nitro athlete is competing against other schools. She also enjoys seeing how much improvement or regression she has had since her last game. However, the most difficult thing for Sarah is being able to keep herself together, since tennis is a relatively individual sport, and she has to depend on herself to do well, which requires a lot of training. 
Overall, Sarah says that she and her members are "very close knit", and they form a great team because of it. All the girls are encouraging and supportive of each other, which helps build team unity.
This year, Sarah and her teammates hope to reach the CIF playoffs and earn a couple victories in the postseason, which is something they have been working really hard to achieve. Apart from that, their goal is to maintain their ranking in the league.
Sarah encourages more students to join the tennis team because it will give them the opportunity to improve in a very fun sport, and it serves as a gateway to new friendships that they may never have thought possible.
Sarah plans to continue playing sports throughout her college years as well, since she doesn't want to leave her passion for tennis behind her after she graduates from high school.
If you are interested in joining the tennis team next year, please contact Coach Jim Jenks at [email protected]!