On Friday, August 18th, the Glendale High School varsity football team beat the Duarte Falcons on the road with a final score of 29-26. It was a constant battle that ended with an 11-point comeback for our team, and the win put them at an 1-0 record for the first time in eleven years.
On the opening drive, quarterback Jonathan Wells threw a long completion to Zandrel Bellon for a touchdown, putting the Nitros up 7-0. But the Falcons would come in hot, scoring two unanswered touchdowns in a row. However, they missed both an extra point and a two-point conversion, giving them a 5-point lead at the end of the first quarter. 
A few drives later into the second quarter, our offense got the ball back, and disaster struck. Our team gave up a pick-6, with the extra point being blocked, giving Duarte a 7-18 advantage. 
On the very next drive, our running back, Alfred Intriago, ran in the end zone for a Nitro touchdown, giving us an answer of 15-18. But with less than a minute left in the first half, Duarte scored once again, with a successful 2-point conversion, giving them a 26-15 lead at halftime.
From this point on, it would be all the Nitros, with the defense not giving up a single point in the second half and the offense staying consistent. In the first drive of the second half, Glendale came out with a run-heavy offense, which would lead to a touchdown by Wells, who scrambled out of the pocket and into the end zone, bringing the Nitros within five points of the lead.
Then in the fourth and final quarter, Rudy Cuellar would eventually get the ball and score a final touchdown, putting the Nitros up 29-26, after completing a 2-point conversion. The defense then got two more stops, and with under a minute left, Duarte had enough and agreed to let the clock run out, giving Glendale the win.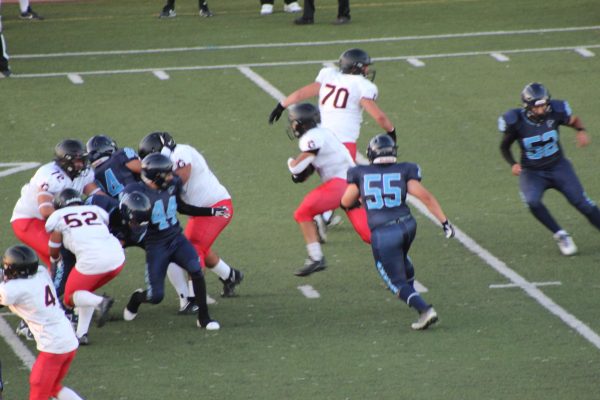 Our current varsity roster is a very new team, as all of last year's seniors have graduated, many freshmen have joined the team, and many upperclassmen are brand-new to the squad. But the biggest change in the program from last year is our new coaching staff. 
After another single-win season last year, our school administration moved on from the previous coaches and started looking for their replacements. The program was looking for a new direction, and this change had to happen quickly.  
However, the process took longer than expected, and our new coaches were only able to take over the program in the middle of June. This hurdle did not deter our new coach, Manuel Lemus, who had previously served as defensive coordinator at Chaminade High School for four years. He would eventually get some other hands on deck, helping him to coach the Nitros a few weeks into summer camp.
Coach Lemus came to GHS to help change the culture of football at our school. "What led me to come here was [that] I wanted to be a head coach and take the challenge of building this place up," he said. Glendale High School is also very convenient for Coach Lemus, because it's closer to his home. 
Coach Lemus blames inexperience for our eleven point deficit in the first half of the Duarte game. "We started slow, because our team is young," he said. "But once we start to see the importance of starting fast, then it will become more of a normality." 
Our team's offensive coordinator, Matthew Caldwell, agreed. "Since it was our first game, and our team is in a new system, our players were just overthinking things, instead of just having fun and playing football," he said. 
The defense did not allow any points in the second half, which helped the Nitros to come back and win the game. Coach Lemus felt that the defensive switch came from "subbing some people in and out, and changing our formations during the second half."
The Nitros ended up being very consistent on offense, as they scored a touchdown every quarter of the game. Coach Caldwell said, "It was a good foundation for our offense. However, if we have the chance to score, we have to take it. We don't want to set limits on anything we do." The top players in this first game were Alfred Intriago, Rudy Cuellar, and team captain Freddie Rios Barrientos, who all made huge plays on both offense and defense.
The Nitros would then continue their winning ways in their next two games, beating the Mendez football team at home 19-9, and then winning on the road against Mark Keppel, with a final 33-6. The future is as bright as ever for this team, and if you want to come and support them in their next home game, then come out to Moyse Stadium this Friday at 7pm.
Our Nitros will face off against Beverly Hills High School, and the theme will be Western Wear! So show up with your best boots and hats, and help cheer our team on to victory! Go Nitros!