Track and field captain Edward Dartinian, and his teammates, have finished yet another amazing season representing Glendale High School. 
Edward is a senior and has been at GHS for all four years. He was born in Burbank, but he moved to Glendale before his kindergarten year. Some of his hobbies include watching movies, hiking, riding his bicycle, and playing sports.
During his sophomore year, Edward learned that his junior year would offer him seven periods instead of six. This made him want to join a sport, instead of taking another academic class. "I decided to join track and cross country, so I remember seeing an email about joining the track team," Edward said. "And I emailed [Coach Robert Bailey] and I made it in." 
Edward and his teammates follow a set routine to prepare for their competitions. "Our workouts are usually an hour, or an hour and a half," he said. "We do runs outside of the school. We do this for six days a week, and we have a tougher workout on Saturday mornings."  During the season, they compete in invitationals and league track meets, on top of their regular team workouts.
Edward's main events were the 800-meter and the 1600-meter, but he also competed in the 3200-meter and the 400-meter. Overall, in the Pacific League, Edward finished in the top twenty, in both the 400-meter and 800-meter competitions. He has finished the 1600-meter event in under five minutes, and he has improved his speed by fourteen seconds in the 800-meter race since last year.
Edward is not too sure if he will continue competing in track during his college years. "I'm considering taking track in college," he said. "If I do continue track, then the best option for me would be to go to [Glendale Community College], and if not then Cal State is another option."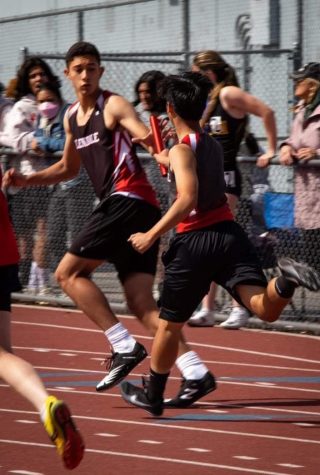 Edward's favorite part of being a part of the track team is the individual aspect of the sport. "It's solely [about] you, and how much you can improve yourself," he said. Most other sports played at GHS are team-based, but track is one of the only sports where you get to be responsible for your own outcome yourself. "It's only up to you to make yourself a better runner," Edward said.
Edward believes that all Nitro students should join the track team because "starting off and seeing what your time was before, and how much you've improved by the end, is a great experience." 
Edward is also optimistic about the future of track and field at GHS. "Currently, for the frosh/soph girls, we have the second fastest runner in our history [freshman Alexa Nagasawa]," he bragged. "We have a lot of freshmen, and they will be improving over time." 
If you are interested in joining next year's track and field team, you can contact the track team: @glendaletrackandfield on Instagram. Or you can email Coach Bailey at [email protected].