Cassidy Azores is a senior at Glendale High School. Born in Queens, New York, and raised in Glendale, this hardworking student has made her mark at GHS. She is a member of the Dance/Drill team, the president of the MESA Club, and the president of the Red Cross Club. She is also a semi-finalist for the 2023 Pat Navolanic Memorial Award. This year there were fourteen seniors who successfully applied for the award, and Cassidy was a strong contender.
Cassidy's hobbies consist of art and video games. She used to do more traditional art, but she recently made the switch to digital art and has been loving it. She is currently playing Final Fantasy X which is one of her favorite video games. 
As a member of the Dance/Drill team, Cassidy most enjoyed the four events they hosted over the course of the school year: Camp Glendale. Master 5, WCE Glendale, and Glendale Games. The Glendale Games competition was their biggest event this year, and she enjoyed it to the fullest. 
Cassidy is also the president of the MESA Club, which stands for Mathematics, Engineering, Science, and Achievement. This club offers people a good education in regard to STEM. Club members annually compete against other schools in regional events. 
Cassidy's favorite competition is called Think Tank. The premise of the competition is to create a competition based on creating a competition. Competing schools are judged based on how effective and strong their competition is.
Cassidy has been involved in MESA since the 7th grade at Wilson Middle School. "MESA has always been my home," she said. Since opportunities in the field of STEM haven't always been available for women, Cassidy wanted to be a part of the change. She is a math and science lover at heart.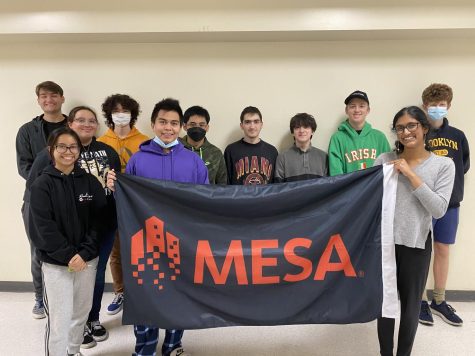 When club members were deciding last year who would become the new MESA Club president, they had an easy choice to make. When elections came up, it only came down to who was the most engaged with MESA. Unanimously, Cassidy's friends decided that she had the most passion for the organization. 
The GHS Red Cross Club is an extension of LA's non-profit organization. The Red Cross offers emergency assistance, disaster relief, and disaster preparedness education. Red Cross Club meetings at GHS vary depending on what's going on in our community. Cassidy said that they "look at current events and see how [they] can relate them to the Red Cross every month."
Cassidy thinks people should be a part of these clubs since they are "very informative and well-known communities." MESA Club features math and science, while the Red Cross Club offers health education. Some of Cassidy's closest friends have been met through MESA, both at school, as well as off-campus, in the LA region.
As a senior, Cassidy will have to pass on the torch of the MESA and Red Cross Clubs to a worthy individual, who will hopefully show the same passion for these organizations as she has. After she leaves GHS, she hopes that they "can continue to stay alive, especially since [they are both] bigger than just a school club, [as] there are MESA and Red Cross centers all across California." 
However, Cassidy is confident that both of these organizations will endure on our campus. "I hope these clubs can continue to inspire people in their goals and teach them important lessons," she said.
If you are interested in learning more about MESA Club, please contact Ms. Thompson at [email protected]. And if you are interested in joining the Red Cross Club, contact Ms. Barboza at [email protected]! 
Stay healthy and trust the science, Nitros!