Alyssa Montanez Is Here to Add Color to Your Life!
Art Club president helps GHS illuminate even harder!
Alyssa Montanez is a senior at Glendale High School, and she is currently seventeen years old. She is the president of the GHS Art Club, and her hobbies usually consist of just doing arts and crafts. 
How did you first get involved in the Art Club? 
I got involved with this club during my sophomore year during quarantine. I just did drawings but really never got into it as much, [because] I was just a beginner. During my sophomore year, I joined the club and had so much fun in it. I was actually in [Art] 5-6, because I skipped Art 3-4. 
How did you become president of the club?
It…got stuck with me. I didn't mean to become a president. I was just aiming to be a secretary, [and I did not consider being the Club president] until I got asked. 
What is the purpose of the Art Club?
The purpose of this club is to mainly let artists around [our] campus to further express themselves in the form of a drawing, while having fun with it. 
What happens during your club meetings?
During my club meetings, [on] different days, different things happen. We usually do drawings or we play games with the club members. [One of the] other things we would do is to finish each others' drawings. As of right now, we're really focusing on building the team together on a collage, and later on [we will] put the ideas together.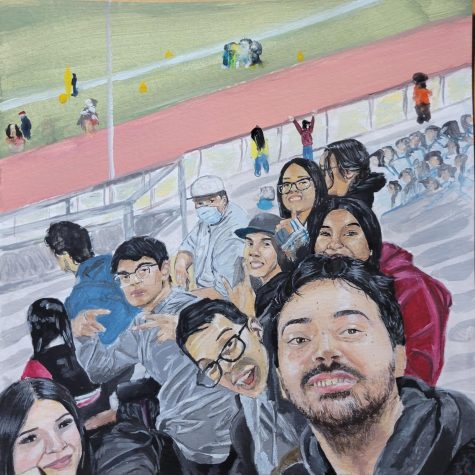 What are some of the challenges that you and your club members have faced in the past?
As a whole, we don't really have major ones, but as an artist myself, it's pretty hard. Trying to create a masterpiece, when so many things are happening through your mind, is crazy. It's pretty exhausting, but if you put enough effort into it, then the outcome will be worth it. Either way, we still continue. 
What are some of your favorite things about being the Art Club president?
My favorite part about this club is seeing people get together and clearly express themselves in the form of a painting or a drawing. [I also love] the memories we make as a team. It's great, and you'll have fun. 
What hopes do you have for the future of this club? My hope for the future is for people to further stay and come to the club [meetings and] for them to have fun as well, and at the same time find themselves. I hope that next year will be even better. 
If you are interested in joining the GHS Art Club, please contact Ms. Shiroyan at [email protected] or you can follow them on Instagram: @ghsartc!