Arianna Vargas is a proud junior at Glendale High School, who was born in Glendale and has lived here ever since. Aside from playing volleyball, some of her hobbies include listening to music, baking, and spending time with her family. Arianna is also one of our amazing volleyball captains here at GHS. 
Our girl's varsity volleyball team had a terrific season in 2022, finishing with an overall record of 24-12-1! They also qualified for the CIF Southern Section Playoffs and made it all the way into the second round!
How did you become a volleyball captain?
I became a co-captain later on because my coach chose me. She selected me because she believed that I got all the requirements needed to run a team and was fit to become a captain. 
I work really hard, and [my couch] sees me trying to improve myself and to be better. Believe me: I'm trying to do better day by day. 
I'm always out here encouraging my teammates, [especially] if they mess up or anything like that. Even though I'm quiet, [my coach] always notices how I'm here looking out for the team. 
What are some honors and accomplishments that you have earned as a team?
We proudly stood against the teams of Arcadia and Burroughs, and we qualified for the playoffs this year, and I'm really proud of that. I believe we finished third out of all teams in the Pacific League. It's truly amazing, and I'm proud of what my team and I have accomplished so far.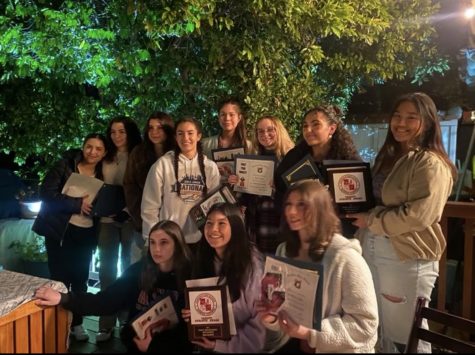 What is the most difficult part of being on a team?
The most difficult part of being on the team is the mental overthinking. Having to get through teams that are taking us down, and saying that we aren't good enough to face them, is hard. It's hard to keep up. 
[It's also challenging] when we are playing against a tougher team and the people say that GHS is not made to go against that specific team. We try our best to do better and not let anyone get into our mentality. 
What is your favorite part about being a member of this team?
All right, first off, I just want to say that being a part of the volleyball team is an amazing experience, [and] I'm lucky to be a part of [it]. The people [on] the team are kind [and] caring, and we all look out for one another; it's like having a second family on campus. Overall, the people, the sport and everything…it's great! 
Why should other GHS students join the volleyball team? 
We lost a lot of people this year, so our team is currently in need of more Nitros to come in and participate. A lot of our seniors from last year left, so we're down to about only twelve people [on] the team. 
Every team is different, but being a part of this one is even better, because it's such a great opportunity that you can try. I really hope that more people will come. I encourage everyone to come and try-out!
Where do you see yourself after you leave GHS, and what plans do you have for the future?
I will surely miss GHS; it's an amazing place with amazing people. After graduation, I plan to keep playing volleyball, and…I'm planning to keep my passion for it going. 
I intend to play [volleyball in] college, if I'm lucky enough. I would love to continue playing, but at the same time, [I will] try to get my Master's degree in Occupational Therapy. 
What hopes do you have for the future of this team?
I hope that our future volleyball Nitros…will carry [on with] the amazing things we have done as a team and further continue them. 
If you are interested in joining next year's girls volleyball team, please contact Coach William Whiting at [email protected]! Get out there and compete, Nitros!