Sarah Davtyan Believes in Wishful Thinking
Make-A-Wish Club president hopes to help wishes come true
Sarah Davtyan is a senior at Glendale High School and the president of the Make-A-Wish Club on our campus. She grew up in Glendale, CA, and she is fluent in English and Armenian. She grew up playing tennis, and at the age of nine, she started taking lessons. In fact, Sarah is also the GHS girls varsity tennis captain, a role she has held since her junior year. 
Along with Make-A-Wish Club, Sarah is involved in other clubs and organizations at GHS. She is an AP and honors student, and she is currently serving as the ASB Director of Fundraisers. Last year, Sarah came in first place in the speech competition at the 2022 Oratorical, and she enjoys other speech competitions and speech writing. (Fun fact: Sarah also has a twin sister, named Lizzie, who also plays varsity tennis and serves on the GHS ASB.)
Sarah has also been involved in several extracurricular activities, including musical theatre, Armenian school, dancing, and ice skating. Even as a kid, she tried to make an impact in her community. 
Sarah joined the Make-A-Wish Club during her freshman year, mostly just to see what it was all about. "I mainly joined the club, because I thought it was an interesting and active way to get involved in my community," she mentioned.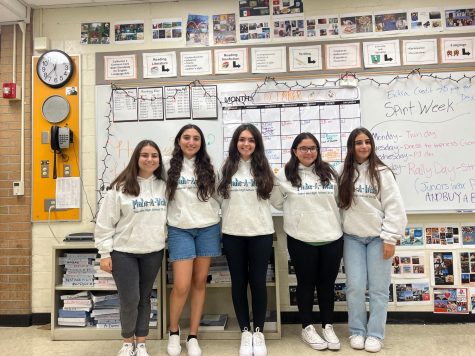 This club helps support the needs of children, and Sarah believes it is important to contribute to its cause. She enjoys being in the club, and in her junior year, she decided to run for secretary. This role helped her be more involved in the club than she was already. 
As president of the Make-A-Wish Club, Sarah helps plan fundraisers to support the wishes of children with critical illnesses. "Our main focus of the club is to do fundraisers, [where] basically 100% of the proceeds… go towards the Make-A-Wish Foundation," she said. 
In fact, Sarah and her club members just finished their Make-A-Wish Macy's Santa Letter fundraiser. This is where students in the club wrote letters from the perspective of a child, and for each letter written, Macy's donated one or two dollars to the Make-A-Wish Foundation. 
Another fundraiser held by the Make-A-Wish Club was the Powderpuff pie in the face, where students were able to bid to smoosh a pie in the faces of their teachers. All proceeds from this fundraiser also went to the Make-A-Wish Foundation.
The Make-A-Wish Club is one of the biggest clubs on campus, and by joining this club, you can earn community service opportunities. Anyone can join this club all year round, so if you are interested in being a part of the Make-A-Wish Club at GHS, please contact Ms. Lisa Keefer at [email protected].