Changes on Campus Are Good for Us
How changes affect our Nitro community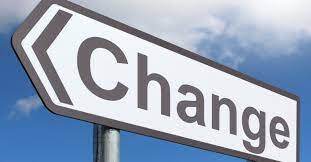 The one thing you can count on in life is change.
Change can lead to new opportunities, including making new acquaintances and developing fresh perspectives on life. Whether a shift is expected, or comes as a surprise, usually determines whether it makes us feel excited or afraid of the unknown. 
However, the drawbacks of change can include decreased morale and different losses of relationships of all kinds. It mainly also messes with a person's brain and might give people the impression that they no longer have control over their lives. 
When faced with a potential change coming from someone else, our feeling of self-determination frequently disappears first. Overall, not all types of change can have a positive effect on people and may also be negative.
Change enables us to advance in life and take part in new and interesting experiences. Life might become stagnant if you don't actively focus on improving yourself. Changes that you never realized were possible can be brought about by developing different types of abilities in order to problem solve. 
As a person genuinely develops, they may realize the many concepts that life is offering them. People make mistakes, learn from their mistakes and try not to make them again. Personalities change; maybe the first time that you meet a person, and they are not a likable person, and they were a bad influence. However, you may meet them a year later, and you might not even recognize them anymore. 
So many things can cause change in our everyday lives, and the overall number is virtually innumerable. Your point of view and opinions may change due to different facts which are presented to you.
On the other hand, changes may also negatively affect the ecosystem. Different factors may alter our environment, including climate change, pollution and biodiversity. Changes that can have a positive benefit on our ecosystem include composting, recycling, and technological advancement. 
Our campus is also affected by change in a variety of ways. For instance, a teacher may retire or leave our school. That teacher may have had a significant impact on the campus and assisted many students in resolving a variety of issues, so their absence might have a severe effect on our community. 
On our campus, many students go through various changes, some of which are visible and others that are not. Some of those adjustments may have an impact on how well they perform on tests and on other forms of work. 
Due to the varying stages of brain development at various ages, freshmen, sophomores, juniors, and seniors may all respond to change differently. In order to avoid making snap judgments, it is important to understand why some people may act differently or experience mood swings, and how it is possible that maybe there is a situation going on in their lives which makes them act a certain way. 
New opportunities, like meeting new people and gaining new perspectives on life, might result from change. Whether we are excited or terrified of the unknown by a transition typically depends on whether it is expected or unexpected. Change may happen everywhere, during any time; each second may have a huge effect on a person's life. 
Many Glendale High School students and teachers have their own perspectives on change.
Nare, Sophomore
Change helps people to develop into a better version of themselves and learn from past situations which they might have experienced.
Yeranuhi, Freshman
In my opinion, change is very important for a person to genuinely become more advanced in their everyday life. Change can help a person gain friends, lose friends and create new relationships with different people.
Emily, Freshman
A person cannot grow without change being presented in their life. It is way too big of a part in a person's life, but it can be both positive and negative.
Rubina, Freshman
I have experienced both positive and negative change. However, both kinds helped me to learn something new everyday.
Emmi, Freshman
If a person changes, and their personality changes, things can either be good or bad depending on the situation; it might benefit them, but also not.
Anna, Freshman
Change is something very normal that all of us experience, and it never stops. Different changes happen at different ages, depending on what is going on at that moment.
Narine, Freshman
Adapting into new environments may be hard. However, it can turn out to be a very good decision at the end but also the opposite., might turn out to be a very bad relaxation of the following situation."
Angel, Sophomore
If a change does not happen to a person's life, then their life will always stay the same without any problems or even just general accomplishments.
Mr. Peter Gebeshian, Teacher
The necessities of changes are needed in people's lives. Every second, people may experience change. And whether it is good or bad, it helps with the person's growing abilities and the skills which they may grab from all the things… they have experienced.
Mr. Tom Walley, Teacher
Change is very necessary in society and your personal life. Without change, things do not proceed. It is very very important to change… to move forward, to look at the past and review, because change brings new life, new ideas, new thoughts. As you grow older, you may be like, "Well, I did not need that," but change is a big part of life.
Mrs. Gohar Khalatyan, Teacher
Change is very important for the development of a child, and even for some adults also…