Arman Vanyan Makes GHS More Colorful
Junior color guard captain inspires his teammates to be better
GHS junior, Arman Vanyan, is the current color guard captain. He was born in Yerevan, Armenia and moved to the United States in 2012. Apart from color guard, Arman is secretary of the GHS Creative Writing Club, and he is in the Top Six of the GHS Marching Band. Outside of school, Arman enjoys drawing, journaling, reading, and writing.
Arman first became interested in color guard when a group of high schoolers came to Woodrow Wilson Middle School to promote the program. He thought it was a cool sport and a great way to express his creativity, so he joined during the summer before his freshman year. 
Arman briefly left color guard when the COVID-19 pandemic began, but he returned during his junior year. Upon returning, there were only three members of the team left, and their coach Kianna promoted Arman as captain, because she knew he had the skills and leadership qualities needed for the position.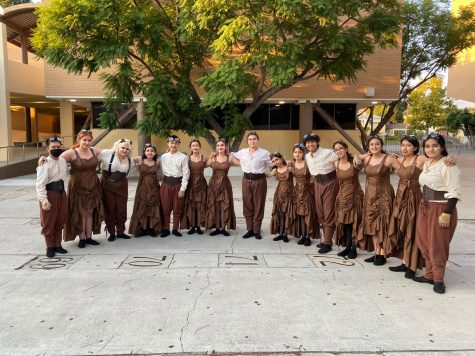 Arman says that one of his favorite things about being a captain is having the opportunity to teach team members new skills and seeing the spark in their eyes when they finally master them. The most difficult part of being a captain is that it's hard to keep track of everyone in color guard, since there is one captain and over twenty team members. However, Arman points out that the team is very disciplined, which makes it easier to manage practices.
Color guard practices start off with technique warm-ups, followed by choreography, starting with small sections and transitioning into full runs of a given show. Whenever they have some free time before or after practices, the team members also enjoy bonding with activities and games, which strengthen their relationship with one another. The color guard team practices twice a week after school for several hours, to make sure that they can give their best efforts at competitions. They also have practices during holiday breaks.
Arman definitely encourages more students to join the color guard team, because it is a very tight-knit family and is very welcoming of new members. He says that it has personally made him more confident in himself and in his abilities, and he has seen similar improvements in other color guard members, even those who have not been a part of the team for a long time. 
After high school, Arman would like to pursue a career in programming or game design, since he is very interested in both math and expressing himself creatively. 
If you, or someone you know, would like to join the GHS color guard team, please contact Ms. Rangel at [email protected]. Stay bright and spread the color, Nitros!