Lauren Hession Nominated for Red Cross Award
GHS Red Cross Club President receives Volunteer Excellence Award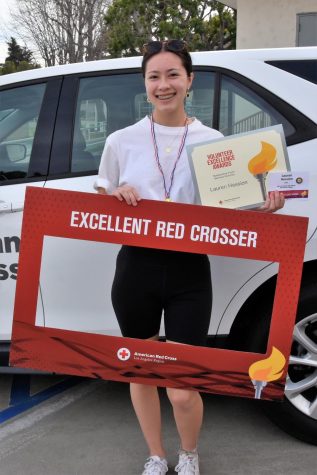 This past weekend at the Red Cross Volunteer Excellence Awards, Glendale High School senior Lauren Hession was one of five high students nominated for the Outstanding Youth Services Award by the Los Angeles Region, as part of the prestigious 2021 Volunteer Excellence Awards. The Youth Services Award winners are nominated by other volunteers, and they are ultimately selected by a volunteer committee for their outstanding service.
Lauren and her fellow nominees were selected from nearly 3,000 student Red Cross volunteers in the LA Region. "Throughout 2021, I served 291 hours on the youth Executive-Board as the Glendale Chapter Club Liaison, Metro & Southeast LA Territory President, Glendale High School Red Cross Club President, and Youth Liaison to the Territory 4/5 Executive Board," she said.
Lauren also received a gold pin, representing the over 250 service hours that she has volunteered through the Red Cross.
Lauren has been actively involved in the Red Cross for over two years, because it "really does bring together people from all places and walks of life to carry out its mission and serve our community."
Congratulations to Lauren for her service to her community!