For the first time in the over 100-year history of Glendale High School, we will not be recognizing a valedictorian or salutatorian of the senior class. Instead, our school will recognize students who fall under three designations, based on their weighted grade point average: cum laude (a GPA of 3.5 to 3.999), magna cum laude (a GPA of 4.0 to 4.199), and summa cum laude (a GPA of 4.2 or above).
This change in our academic honor system has allowed for a new opportunity for the senior class, as our valedictorian and salutatorian would each traditionally give a speech during the graduation ceremony. Therefore, GHS held its first ever Graduation Speech Contest, to decide on a student speaker for the upcoming ceremony for the Class of 2023.
Seven seniors submitted a speech for consideration, and a panel of teachers, led by GHS principal Dr. Benjamin Wolf, selected four students to deliver their speeches as an audition. After much deliberation, the panel members chose Liana Akopyan to serve as the 2023 senior speaker, and she will deliver her speech during the graduation ceremony on the evening of June 7.
Our three speech contest finalists are Francine Ghazarian, Kristina Kugaevskaya and Stella Todd. The speeches submitted by these three finalists are presented below. We want to offer our congratulations to all of four these exceptional students, and we thank them for participating in this process.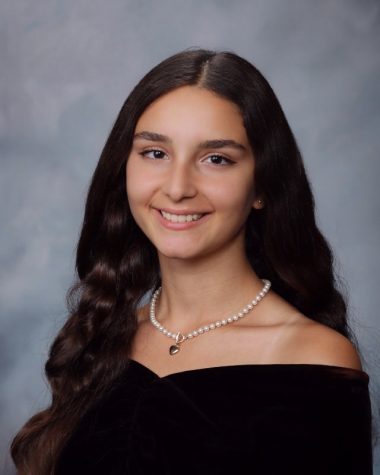 "Authors of our Own Stories" by Francine Ghazarian
Good evening to all. I'm Francine Ghazarian, and I'm honored to be here today delivering this graduation speech.
When I was a sophomore, I came across a word that I had never heard before, but one whose meaning I had felt ever since I gained consciousness of the world around me.
That word is "sonder".
"Sonder" refers to when one realizes that each person surrounding them has a complex and unique life, just like one's own.
I especially felt this feeling when I walked inside Glendale High on the first day of my new epoch. As I noticed the varying students on campus, I just could not help but stand there and look around as they all swirled in different directions. I was left in awe by the fact that all of these people existed and were going through distinctive lives at the same time as me.
There were several prominent upperclassmen that I frequently saw on campus. I took notice of them, because they all had some sort of an aspect to them that made them captivating.
There was that group of talented musicians who were in a band, the two smart juniors running a UNICEF club, that one senior whose face and name I seemed to see everywhere on campus, and many others whom I decided to turn into my role models for the next four years of my life.
As the years went by and we became upperclassmen, each of us started turning into these role models we had once decided to look up to. Some of us became enamored with our sport, others, like myself, improved greatly in our instrumental abilities, and many of us found our love for new hobbies and subjects. Overall, we discovered our defining characteristics, found new friends and lost others, endured hardships that made us cry, challenged ourselves with difficult classes, and spent hours of our lives wondering in distress over what we are going to do after we leave this school.
In other words, we became the authors and main characters of our own coming-of-age stories, hundreds of different and unique stories, which once again, reminds me of the word "sonder".
Last year, during this time, I was sitting over there where the orchestra is, playing "Pomp and Circumstance" for the graduating Class of 2022, and thinking about how it would be me walking this stage in a little less than a year. Now that that time is here, I would like to reflect on this little part of our lives we call "high school".
We've heard the bell that directed our daily schedule over 4000 times, not thinking that one day, we would hear it ring sweetly in our ears for the very last time. We music kids played with our music groups almost every single day, not knowing that each note was one note closer to the last one that we would hear resonate inside the precious music room of ours. We climbed up what could be millions of steps to reach our classes on the fourth floor of the 4000 building, not even thinking about how one day we would take the last step up those stairs. We've all rushed to our designated spots during snack and lunch to meet our friends, oblivious to the fact that our spot will one day be taken by future students, and that the only things remaining in that location would be the memories, endless laughter, and inside jokes that were born there. We've had our last walk or drive to and from school, our last point scored at our last sports game, our last class discussion, our last fist bumps with the teachers, and all of the other lasts you could think of.
Now that these lasts are over and we are stepping foot into yet another epoch of our lives, I want you to promise to never stop writing your story, and to ensure that the future chapters of your novel do not become bland and boring. Continue focusing on building your character, exploring your talents and interests, and keeping an open mind no matter how old you get, so that when we meet each other for our high school reunions, I will look at all of you and once again feel that feeling of sonder when I get a glimpse into the hopefully successful, special, adventurous, and joyful lives you will have created for yourselves.
And with that, I would like to end my speech with my favorite paragraph from my favorite coming-of-age novel, The Perks of Being a Wallflower, by Stephen Chboskey:
"You are a part of an infinite family. The people who have been through terrible things and survived them. If you are reading these words, you WON today. You are here. You are alive.
You have options. You can wait out a bad situation. Move on. Fight back. Get out. Break up. Call. Ask her (or him) out. Write that book. Write that song. Listen to the music. Take the drive.
Take the chance. And live. Whatever strategy you choose, you WIN."
Thank you all, and congratulations to the Class of 2023 Dynamiters!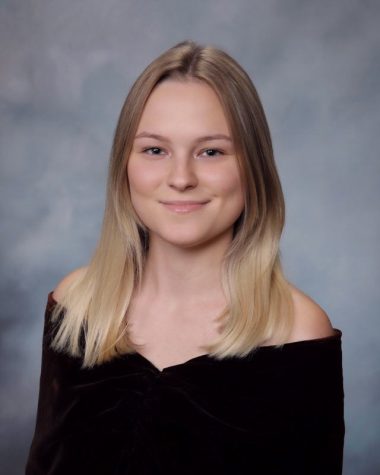 "High School's Greatest Lesson" by Kristina Kugaevskaya
The scents of coffee and blueberry muffins envelop me as I sit before my laptop trying to write this speech. "A committee of teachers will be looking at this, so I better talk about the most important things I learned in high school' I think to myself. Immediately, the following topics come to mind: the pythagorean theorem ("a" squared plus "b" squared equals "c" squared), photosynthesis (plants turn CO2 into O2), and the beginning of the Constitution ("We the people"). That's all I remember. But each one of these topics is super important to us because… I see you guys are bored to tears. Did you really think I was going to stand up here for two minutes and ramble about how I will use high school math in everyday life? I know I can be boring, but I promise I'm not that bad!
No, I don't think the most important part of high school is one we learn in any classroom at all. If GHS has taught me anything, it is that life goes on.
One morning I awoke earlier than usual. With shaking hands I logged into CollegeBoard.com, and jumped for joy when I saw my 5 on the AP Euro exam. All my studying paid off and I felt like I could conquer the world. My mom's serious voice called from the kitchen. It commanded me to get up right this second, and get started on breakfast. But I had just received excellent news! Surely the world could stop and celebrate with me, right? Yet the people outside my window kept hurrying to and from work all day, as if nothing important had happened.
It was midday and I lay in bed, a box of tissues in my hand, and my mascara streaming down my cheeks. My best friend and I had fought, and I knew this one was final. I felt defeated.
She had been half my soul, as the poets say. How could I go on without her? I stayed in bed all day, letting the pillow soak up my tears. In the morning, I woke up feeling cold and broken. And yet the sun still rose that day.
It was a special evening, senior prom. All my friends were there, and my dress was beautiful, and the air was charged with excited energy. That dance was something out of a fairytale. The corners of my mouth ached from smiling, and I finally felt like everything in the world was right. But no matter how hard I prayed for time to stop in that moment, darkness descended and soon all of it was over.
It was the night my future had to be sealed. My deepest desire had been to live amidst the hard concrete and loud streets of New York City. The answer to all my hopes was closer than ever. I logged onto my New York University portal and clicked on the status update. Rejected.
As the first tear trickled down I realized that I had been denied my biggest dream. I sat in my bedroom chair for what seemed like days. Night turned to morning, which became evening, and then night again. I had lost all purpose in life. And yet the world kept turning.
I return now to my message for you all. No matter how ecstatic, or destroyed you are, life will continue to move on, whether you are ready for it or not. The world will not stop for you.
And while that may seem cruel, I'm here to tell you it does not have to be. Nothing is forever, and the sooner you realize that, the better off you'll be. So in the future, when your highs are more meaningful and your lows are more hurtful, I wish you to look back on your high school years and remember that life will always move forward, no matter the circumstances.
You'll leave this field today as high school graduates and whether that makes you immensely excited or deeply terrified, life will go on. And isn't that beautiful?
Well, Class of 2023, I know you are counting down the seconds until this speech is over. I would be, too. To finish off, I'm going to borrow the words of my favorite Mr. Livingston and say, it one last time: "Keep doing that thing, Nitros! I'll talk to you again at our ten year reunion… Have courage and be kind, I'm out!"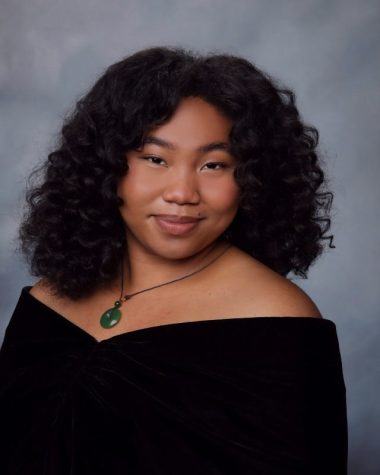 "Untitled" by Stella Todd
As I look into the Class of 2023, I recognize a lot of faces, but there are some I don't. So
I'd first like to say nice to meet you. My name is Stella Todd, I'm 17 years old and today we are graduating. When I was in elementary school my dad used to say, "One day you will blink and you'll realize you're 30." At the time I didn't understand. The days moved so slowly, and my world consisted of home, school, and sometimes on my birthday, Disneyland. So the thought of being an adult felt so unfathomable. It still does, but today, whether we are ready or not, is what separates us from our childhood into our adulthood. When I look back on my 17 years of life, it blurs into one beautiful mosaic. Each piece represents either a memory or a person I love. And the most colorful pieces are the ones I've picked up here.
A capsule of my time here would consist of sheet music and a surgical mask. Both represent a core memory that has shaped me into who I am. I've played cello for close to a decade. When I first started all I could play were scattered and disassembled notes and rhythms, my eight-year-old fingers could barely press down on the strings. At the time my biggest fear was playing the wrong note or forgetting what an A sounds like. And now, after eight years of concerts, rehearsals, and lessons, my biggest fears are playing the wrong note and forgetting what an A sounds like. As I continued to play, I was encouraged by my peers, role models, and mentors. In the 8th grade, I developed a sense of confidence in my playing, which was affirmed by my acceptance into GHS's Symphony. However, as a freshman, I sat in the last chair, and every day chipped away at my newfound confidence and replaced it with overwhelming anxiety. That semester was spent not meeting expectations given by my conductor, my section leader, and myself. As my feelings of inadequacy grew, my hate grew as well. One day, during a music
competition, my fellow musicians and I gathered into a circle and we played Tchaikovsky's "Marche Slave" over and over again, the tempo increasing with every run-through. By the end of it, we were sweaty, sore, and tired. But I was smiling, and at this moment I was overcome with an indescribable joy. Every time I get close to quitting, I remember that moment in the practice room and I remind myself why I still play. Sometimes the things you care about get hard, and you forget why you are still doing it. But it was harder to imagine my life without it. I realized it wasn't just music I had fallen in love with but the people.
Through the years, I have connected with many. Bonds I have built and hope to keep building. I've learned that I hold a greater capacity to love than I thought I could, and through these bonds, I have learned to love myself. Something I could not have said my freshman year, I felt so small and insignificant. I felt as though if I yelled into a room not one person would turn to look at me. But thankfully I wasn't alone. I held the hands of the most radiant people I knew, and over these four years, I have watched them shine even brighter, and in the light of their brilliance, kindness, and dedication, my love has grown. They are not only my friends, but they are also my brothers, sisters, therapists, cheerleaders, and sometimes my parents, and they have become my home. So thank you, to all of you here that I love and that love me back, because I would not be here without you. I hope that you leave here and share your warmth and your goodness, and I hope that you receive the same, because you deserve every ounce.
As a freshman, I pictured my high school experience as an opportunity to become the person I wanted to be. I think if she saw me now, she'd be a little disappointed that I haven't won a Nobel Prize yet. Our sophomore year was in the confines of our homes, and day after day was spent looking at our screens. I had grown tired. Tired of only having a semester's worth of pictures to look back on. Tired of the rapidly increasing casualty count that haunted my TV screen. Tired of missing my family and friends, and tired of the constant worrying. We lost potential memories, our loved ones, and hope. That year was hard, so I know that many of us wanted to give up, to just let it all go. But no matter how hard it was, we still pushed through. We kept pushing until this moment. So I hope today we celebrate to make up for the time we lost, the people we lost, and the hope we found. And to everyone, if you haven't been told yet, I am so incredibly proud of you. Every smile, every tear, every late night working on some project you should have done sooner, every test, and every friend you made, have been worth it and I'm honored to walk to this stage with you.